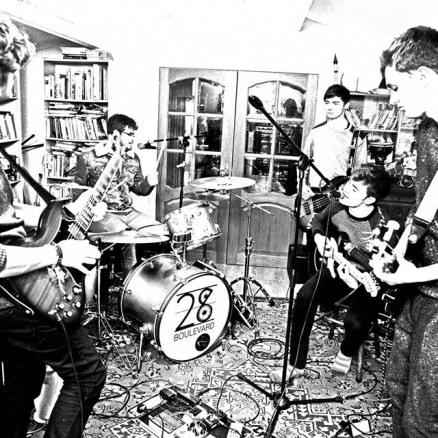 28 Boulevard

28 Boulevard – August 2012 – September 2015
Formed as a four piece in 2010 and then evolved as a five piece since 2013, Lewis Moon (bass), Lewis Lloyd Kinnings (guitar & keys) Michael Smith (drums & vocals), Tim Lloyd Kinnings (guitar & vocals) & Cameron Gipp (guitar) were 28 Boulevard. A very ambitious young band from Cambridge who loved playing music in the studio, on the stage or for their neighbours.
The band had extensive live stage experience playing both full electric sets and intimate acoustic gigs at venues across East Anglia and have also had success in local band competitions
In September 2012, they released their third EP titled 'Pictures' with a new single 'Logistics' following up in April 2013.
The band rapidly becoming a well known name amongst the eastern music scene capture new audiences with every performance and have their sights set on taking their alternative rock sound well beyond the city limits.
In June 2013 they supported Room Service on a 4 date UK tour taking in Cardiff, London, Birmingham and Brighton.
In October 2013 the band released a brand new AA side single 'This Is What / Who Are You' for free download and appeared for a live session on BBC Introducing Cambridgeshire in November 2013.
The band released new EP 'Sunclouds' in April 2014 alongside a new video for lead single 'Electric Feet'. The track has received almost 25,000 plays across Spotify, Soundcloud and downloads from iTunes.
June 2014 heralded a second UK tour taking in Norwich, Sheffield, York, Durham, Nottingham, London and Bury St Edmunds. The band revisited Brighton in September 2014 and released their EP 'Welcome to Wester' in November 2014.
2015 saw the band win Best Music Video at the St Albans Film Festival, record the theme tune for Cambridge TV's sitcom 'Humble Pie' and embark on a third UK tour taking in Sheffield, Northampton, Derby, Stoke on Trent, Blackpool and Manchester in August 2015.
The band went on hiatus in September 2015 as three members have begun University studies but brothers Tim Lloyd Kinnings, Lewis Lloyd Kinnings and Cameron Gipp formed a new band named Johnny Kills in the years after.