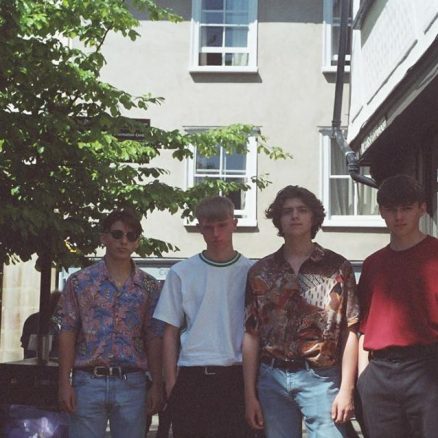 Among The Citizens
Among The Citizens are fast becoming a hotly-tipped new act from the East of England as they begin to establish themselves as one of the most exciting young bands entering the indie/alternative genre within the UK. Having burst onto their local music scene almost a year and a half ago the band have played many gigs across East Anglia
Aside from impressing in live performances, the group have also been learning their trade in the technical side of the industry. Their debut EP 'Unlearn You' was recorded, produced and mastered all self sufficiently. Tracks from the EP have been played on BBC Introducing Cambridgeshire, BBC Introducing Norfolk and BBC 6 Music. Their follow up single – 'Mess in the Head', released on the 18th of May 2018 has also received multiple plays on both BBC Introducing Cambridgeshire and Norfolk.
Not only have Among The Citizens excelled in their studio work, they have also honed their set on the live gigging scene. They have enjoyed playing at both the Junction and the Corn Exchange in Cambridge as well as at EPIC Studios and the Arts Centre in Norwich. Across the early months of 2018 they have played to 2 sold out venues in their home county of Cambridgeshire, the first for promotion giants 'This Feeling' and the second for 'Green Mind Gigs'. On top of this they have also packed out their first show of the year at Mama Liz's Voodoo Lounge in Stamford supporting Redfaces who played at Community Festival 2017. In June 2018, Among The Citizens also played a gig at the Old Blue Last in Shoreditch, London for Fierce Panda who had invited them to play after watching one of their previous shows. Other acts that they have supported include The Scruff, Blushes and DYGL.
August saw the band support Eliza and the Bear at another sold out show in Cambridge and summer festival appearances included Green Meadows for BBC Introducing Cambridgeshire, VW Whitenoise and Wilkestock for Juicebox Live.
In October 2018 the band embarked on their first UK tour, in association with Born Music Online. It visitedcities such as Brighton, London, Sheffield, Leeds and Newcastle for companies that include Disorder, Double Denim Live, Musicians Against The Homeless, Green Mind Gigs and Juicebox Live. They also appeared at that year's Blogtober Fest for Born Music Online as main support for Feva. Their second EP 'Pretend To Be In Love' was released during this month.
In 2019 they were included on This Feeling and Fred Perry's list for artists to become Big in 2019 and are gearing up to releasing a new single in April.
Among The Citizens take varied music influences as the band have a very eclectic interest in music, due to this they have collaboratively created their own distinct sound from a blend of bands such as 'The Cure' and 'Echo and The Bunnymen' with dreamy, infectious chorus guitar, as well as contemporary bands such as 'JAWS' with their lush and memorable synthesiser/guitar melodies. Because of this Among The Citizens have created a fresh, youthful sound; but with that, one that will be around for a long time.