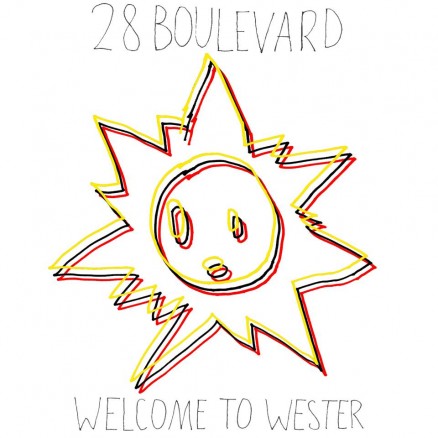 This EP is now available iTunes
28 Boulevard – Welcome To Wester
Release date:

2014-11-03

Label:

Independent
[soundcloud url="https://api.soundcloud.com/playlists/53244636″ params="auto_play=false&hide_related=false&show_comments=true&show_user=true&show_reposts=false&visual=true" width="100%" height="450″ iframe="true" /]
Cambridge DIY indie five-piece 28 Boulevard are set to release their brand new EP 'Welcome To Wester', following hot on the heels of their critically acclaimed April release 'Sunclouds', which saw the group feature in well-respected print publications and online blogs.
Taking influence from the likes of Weezer, Pavement and Pixies, 28 Boulevard have coined a sound that would doubtlessly sit quite comfortably in the slackery lackadaisical haze of 90s college dorms.
Amassing a fanbase spanning the UK, after two tours hitting cities such as Birmingham, Cardiff, London, Brighton, Sheffield & York, 28 Boulevard are fast making a name for themselves and gaining a countrywide following.
'Welcome to Wester' is an almost neurotic celebration of being at the age where you're not quite old enough to have figured life out, but not too young to wonder what it's all about.
With the lives of people around you changing, opening track 'Well Hello' explores relationships with different friends and their contrast between 'subtle sciences' and 'major scenes', whilst 'Cinnamon' sees front man Tim Lloyd-Kinnings pondering whether he still has time to reinvent himself. 'His Very Own Taste' followed by 'High Five With Knives' then brings some of the more downbeat vibes of early adulthood to the EP, with the former describing the perpetual feeling of defeat as familiar as a 'bee in the summertime', and the latter questioning whether its ever even worth leaving the house.
After over thinking the sometimes awkward nature of meeting someone new on 'My Arsonist Friend', the EP comes to a close by commenting on people's desire to appear deep, manifesting itself in a faux self-enforced sadness on 'Sly Day'; the ending's exclamation of 'so I'm glad I'm sad today' almost coming across as gleeful, before the EP curls in on itself in a glaze of fuzz.