Happy Easter!
Time seems to be travelling by ever faster, I was beginning to think I wasn't going to get round to writing this blog whilst we were still in April but don't fear, here I am (I can hear the collective sighs of relief from here..)
So, let's not break with tradition and begin with a round up of what my group of string pluckers, drum bashers and voice warblers have been up to since I last wrote:
We reached the end of a long journey with 28 Boulevard this month as their new EP 'Sunclouds' was finally released in to the big wide world to what so far has been critical and public acclaim. The brilliant music video for the lead single 'Electric Feet' (below) was premiered by Louderthanwar and has to date received over 750 plays on Youtube.
Individual tracks from the EP have had really good write ups from a whole series of online blogs as has the EP as a whole but the cherry on the cake came yesterday as the band got a small piece in NME Magazine (see below). I can tell you that the feeling of going in to a shop and buying a copy of a magazine you know your band are featured in is pretty cool, obviously NME is a big name that everyone knows so to be able to say they've been featured in such a publication is high praise and a really good end to the PR campaign we've worked on surrounding this EP release.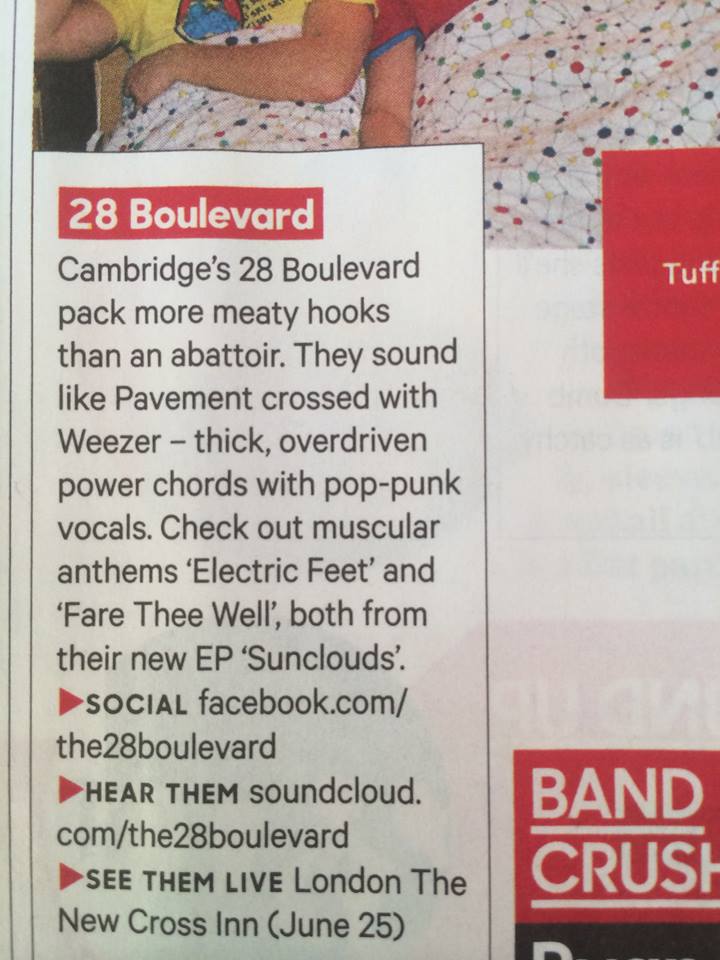 The whole EP is available to download from the usual places inc iTunes, Amazon & Spotify but you can also stream it for free via Soundcloud where so far collectively it's received almost 2,500 plays.
After a little break we had some gigs to attend to last week, thanks to Elliot Porter and the guys at Anglia Ruskin University the band played the ARU Academy last Thursday with some other really cool bands and then on Friday they once again performed at The Junction to a pretty impartial audience and went down an absolute storm – quite possibly their best and most polished set they've ever played at that venue.
We're approaching exam season now so things will quieten down a bit for the next few months but there's still an appearance at Stortfest on 3rd May to look forward to as well as a second tour which we announced details of a few weeks ago! 7 dates taking in Norwich, Sheffield, York, Durham, Nottingham, London and Bury St Edmunds which will run through the last week of June – precisely a year on from the first tour so in only two months time the 'Boulevard-bus' will be back on the road!
In my last blog I was gearing up for a massive gig with Lost Lungs at The Apex supporting Toyah Wilcox – well I'm pleased to say the night was a triumph as they performed to a room of almost 300 people (their biggest crowd yet) and played a very accomplished set which really proved they took on board all the improvements we'd been working on in practice during the lead up to the night. I feel I've gone on a real journey with these guys – who when I picked them up, it's fair to say needed a lot of work and signing them could have proven to be a real mistake – and believe me there have been times over the last year when I've seriously questioned that but particularly in the last 6 months they've come on leaps and bounds and turned in to a band who are now consistently surprising people with their performances and getting lots of positive feedback. From the win in their heat at BurySOUND to the final at the Apex, to performing at the Junction for the first time and to supporting Toyah there has been huge improvement with an evolution of their live sound and the introduction of better songs in their sets. I wouldn't mind betting that if there was an award for 'most improved band of the year' then they'd win it hands down.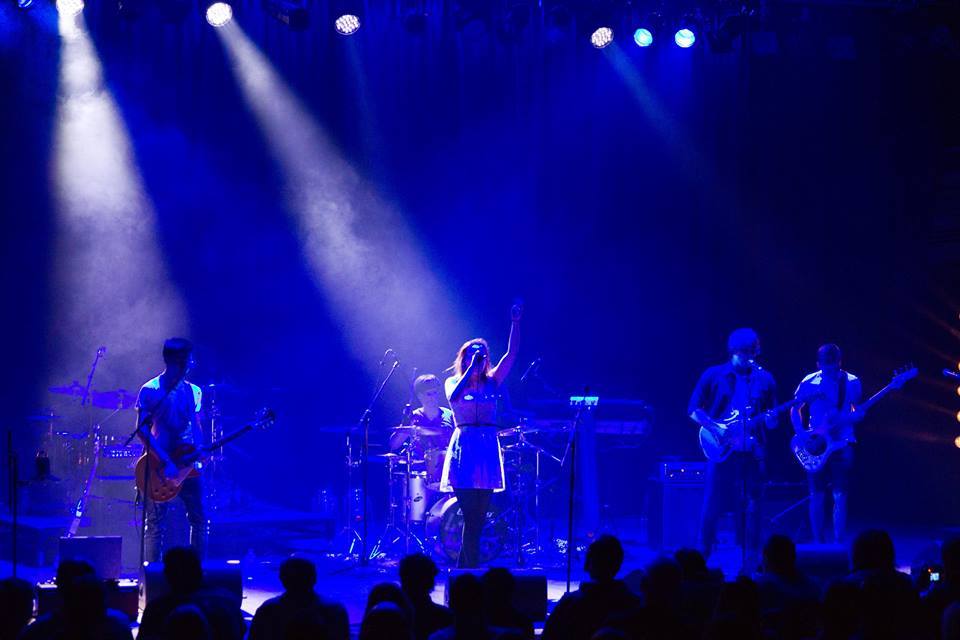 What made working with them through the difficult times worthwhile was getting to know them as individuals, they're such a great bunch to spend time with – from day one we've had a really open and honest relationship with each other to the extent that I know things about them that I didn't really want to know and things I couldn't possibly share on a public forum! Every gig of theirs I go to is a real laugh and so it was a real pleasure to spend two days with them at Crooks Hall studios last week as they recorded their first ever EP. John who runs Crooks Hall offers accommodation to bands who want to make a bit more of an experience of their recording time so we stayed over for a night in a beautiful little bungalow next to the studio. Sitting around waiting for your turn to record can be quite boring and take a long time so it was really nice to be able to have other things to do in a relaxed environment. We established over those two days that I'm not very good at tennis and even worse at FIFA!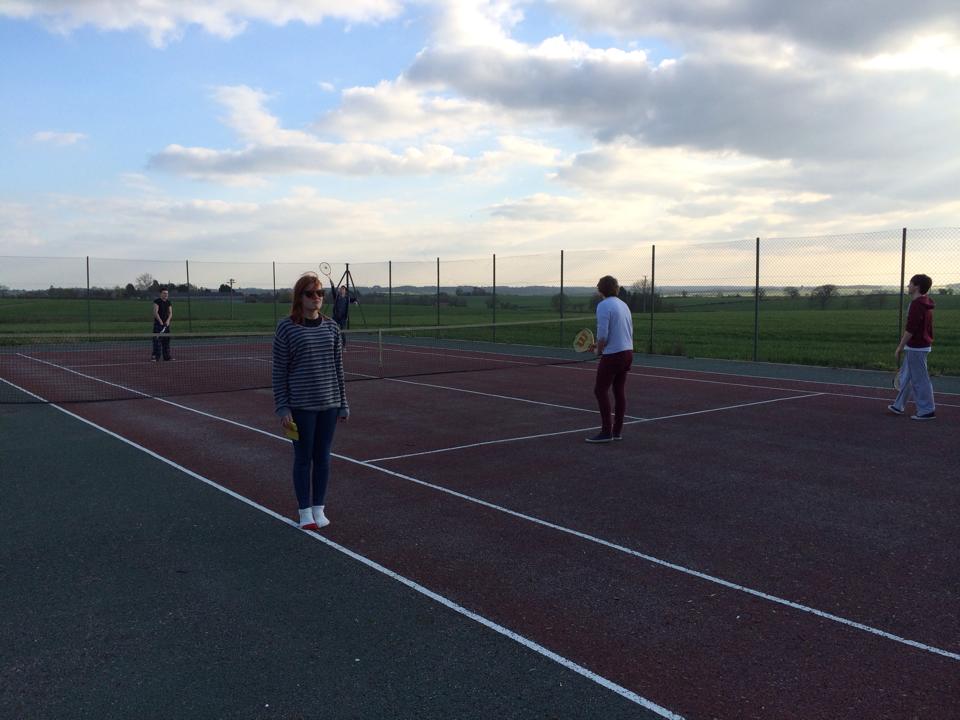 The EP isn't finished yet, we're going back this weekend to spend a few hours on finishing things off and then we'll get the wheels in motion for a release later on in the summer, probably around July. Whilst that's in the pipeline, there are still plenty of opportunities to see them play live over the next few weeks including twice at PJ McGinty's in Ipswich (25th April & 16th May), at Bury Fringe (3rd May) and later on in June at Stowfest & Suffolk Pride.
Speaking of EP releases, The Staycations had theirs in the last month too as 'Tied in Time' – a project they'd recorded before I signed them was released on to iTunes and available on some nicely produced CDs. I took them to BBC Cambridgeshire last Monday to have an interview and play a few songs with Sue Dougan's afternoon show and was really taken back by the response they got – not just by the listeners who were sending in really nice and supportive messages but also by the staff at the BBC itself who said there had been a buzz around the building the previous few days as they were looking forward to seeing the lads play live. Tom Simkins from BBC Introducing was also really impressed, he came down from the office upstairs afterwards to meet them and then came to see them play at the Junction at the end of the week too.
It's very easy to forget how young these lads are because they conduct themselves in a very mature manner (when I'm around anyway!) and perform like people who are far older in years – that's a real credit and a testament to their talent as a collective that they're getting the sorts of opportunities and positive public response they are at only 15 and 16 years old. If that's the case now, who knows where they'll be in 5 years time?! The best thing about them is they don't realise themselves how good they actually are – and I hope it stays that way because their humility is a really endearing feature.
Their set at the Junction last Friday was superb, they were very well supported by a mix of fans, friends and family and although looked nervous to begin with soon got in to their stride and delivered a really enjoyable performance that got people talking afterwards. Even though GCSE exams are looming there are still plenty of gigs coming up including two next week – they take part in the Bury Songwriters Competition on Wednesday and play at CB2 in Cambridge on Friday. The following week they're playing in Mildenhall as part of a Strawberry Fair fundraising evening alongside bands including Cathedrals & Cars and the week after they're back on the radio, this time at HCR FM followed by another trip to Bury at the Hunter Club. They're also really looking forward to performing at Strawberry Fair at the beginning of June too.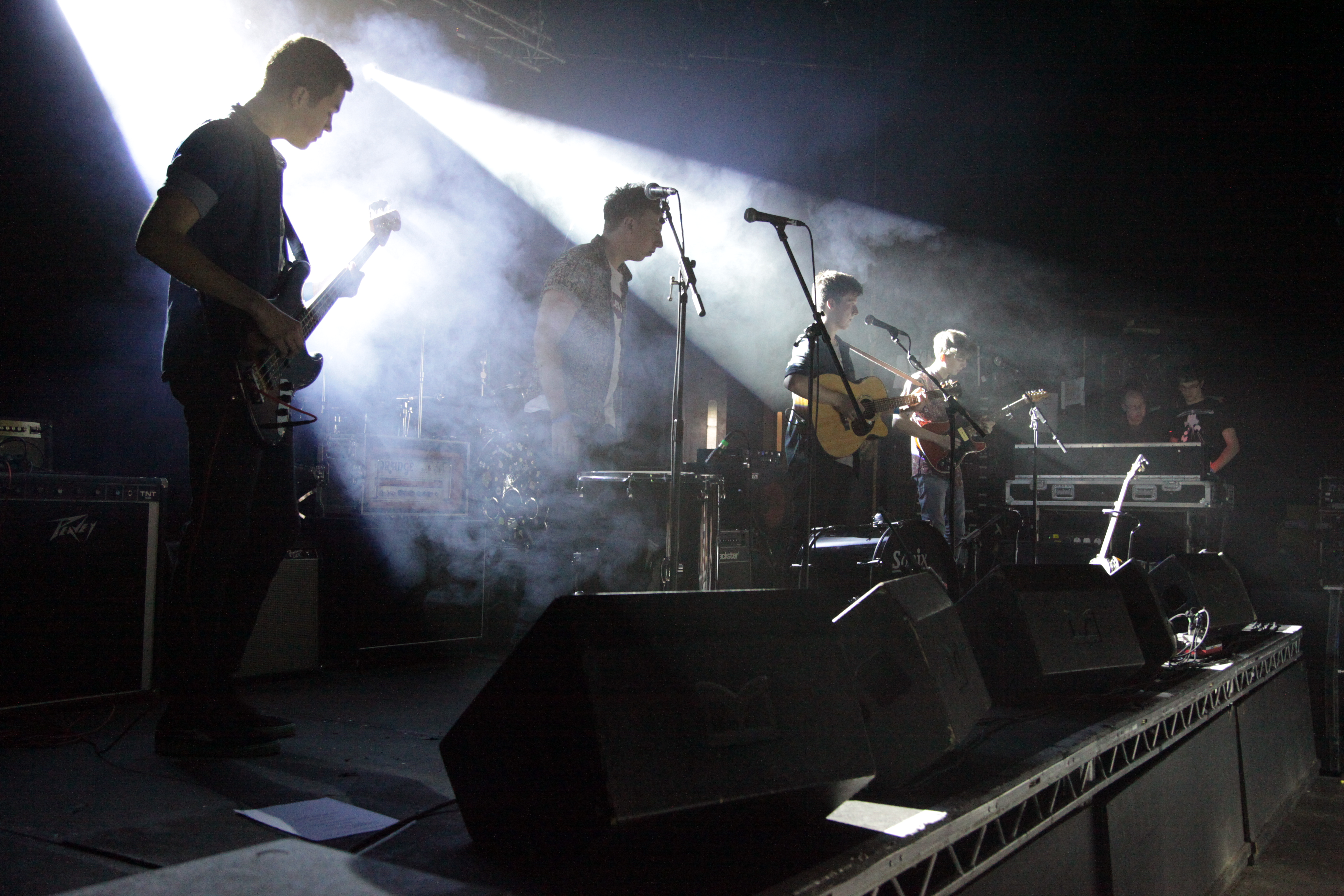 The highlight of the summer though will be the Cambridge Folk Festival which I was delighted to have been able to get them a slot to play in The Den on the Thursday evening – to play the festival alongside so many great names is amazing but to do it on it's anniversary year is all the more special.
Last but not least we have Flux32 who blew the roof off the Junction last Friday with their headline set. I've never seen a band give such a complete performance – both in terms of musicality, vocals but more the visuals. They put on a show right down to the last detail with their always excellent stage presence, a carefully thought out lighting arrangement and even brought their own smoke cannons! I've always been impressed with their dedication to their music and that night proved just how much they care and how much work they put in. Next stop Stortfest!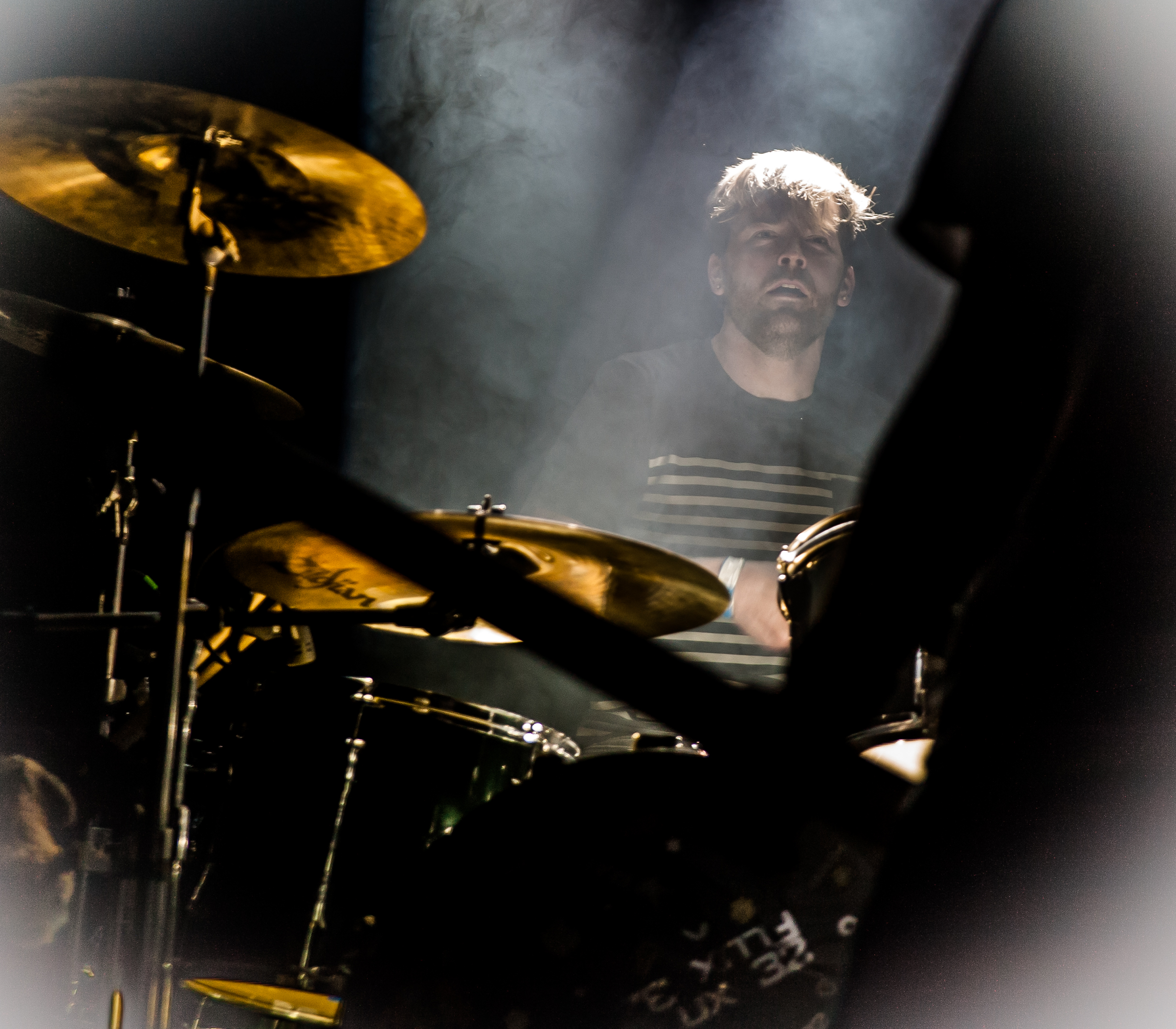 In other business, I'm sadly not running anymore acoustic nights at the moment as the Avery regrettably had to pull the plug on the Friday night event due to budget cuts, I am still hoping to run something new with The Boat House in the future. On the plus side the evening I put on at the Golden Hind a few weeks ago was really well attended and a real showcase of some of the best young talent we've got in our area so big thanks to From The Woods, Healyum, Rachel Clark and Meet Me At Dawn for joining The Staycations on that one.
Speaking of Healyum, tomorrow (Good Friday) I'm hosting their EP launch at Esquires in Bedford which I'm sure will be a really good evening. I've heard the EP already and it really does sound impressive – another band to look out for in the future.
Gig wise we've got the next NMG Sessions on 22nd May with our Flux32 alongside The Abstracts, Bouquet of Dead Crows and Fishwifes Broadside which I hope will be another well attended event – and then on 7th June it's Strawberry Fair, I'm coming to the end of my programming of the Cambridge 105 stage – the line up is a corker!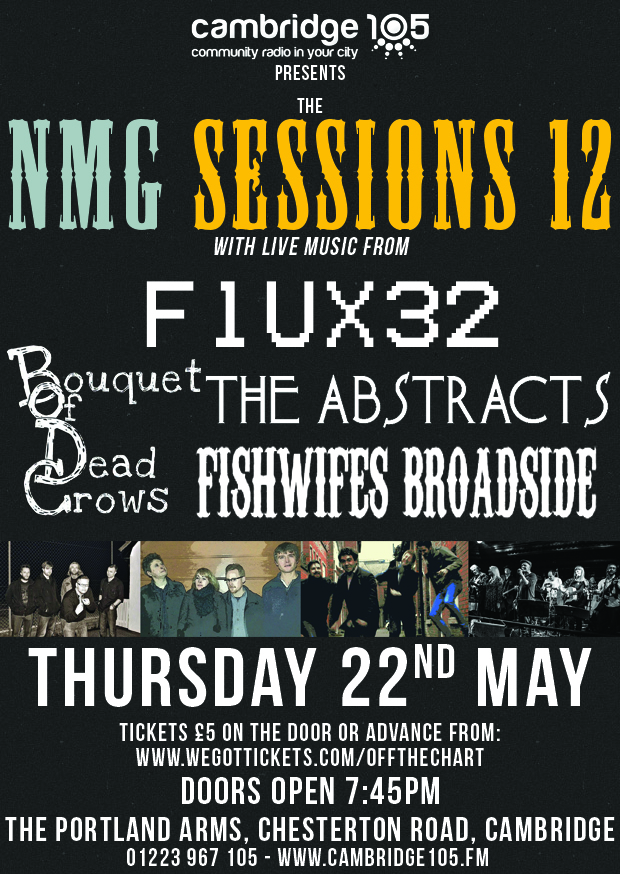 It's been another busy and exciting month and I'll tell you all about what May brings us next time.