Hello you!
Are you full of the joys of Spring and have you finished eating your own body weight in chocolate? Unfortunately, it's been such a busy Easter period for me my Easter Eggs are still pretty much intact but I'm sure it won't be much longer before that situation changes..
Let's begin April's blog update with a run down of what each of my artists have been up to and of course, as always it's not written in order of favouritism 😉
28 Boulevard have been quietly working away from the spotlight over the last few months making the finishing touches to the tracks which they will be releasing over the Summer. We've still not quite decided which tracks will make the initial EP release and which others may be follow up releases – nor have we decided on a name but hopefully those jigsaw puzzle pieces will be put in to place before very much longer and we can crack on with confirming a release date and arranging a PR campaign. What I can say is that the standard of the tracks which have been recorded is very consistent and by that I mean that there are no real stand out candidates for a single release or any tracks which could obviously be dropped when it comes to deciding which of the seven recorded make a four or five track EP because they're 'not strong enough' – that makes our life harder to a certain extent but it's in the main a very good thing and hopefully once it's released you'll agree too!
At the beginning of last month, 28 Boulevard and The Abstracts both played at the O2 Academy2 in Islington, London. The bands hired a coach between them to ferry local friends, family and fans down to the capital so I did my best Brendan from Coach Trip impersonation and was tour guide for the day – not a good job for my clear conscience as whenever we left anywhere I was worried we were leaving someone behind! It turned out to be a good evening, both played well and to a good size crowd and were supported by some other quality bands on the line up too – one who'd travelled all the way over, by van from Belgium! It was also the first time 28 Boulevard had played some material from the upcoming EP on a live stage too so it was good to hear how they translated from the recordings.
So after a quiet few months in terms of gigging, the diary for live events is building up with two gigs this month including one at the Bull in Haverhill on 18th April and at the Corner House on 30th April. May see's the band travel further (and hopefully the return of the 'Boulevard bus') to play the White Horse in Sudbury on 1st May, the St Albans Film Festival on 2/3 May, Basingstoke on 14th May with a Cambridge Junction date on 15th May. If you're coming to any of these gigs though, you may want to play a game of 'which 28 Boulevard member will be playing the gig this time?' as they'll be playing in various forms of a five, four and even a three piece and with different members due partly to Michael's 'inter railing' trip around Europe for three weeks from the end of this month, Lewis Moon cutting back for a while to concentrate on the last few months of his College course and Lewis LK back at University for his final semester. If I could play an instrument or even sing I might have been drafted in…
Moving on to Lost Lungs who yesterday (as I write) released their second EP titled 'Subterranean Homesick Hipster' to the masses via digital platforms iTunes, Spotify, Amazon etc and celebrated by holding an EP launch gig at the John Peel Centre in Stowmarket last night. D
Due to living 50 miles up the road from the band I wasn't able to be fully involved with the organisation of the event so it was useful that both Dom and Andy from the band had to put on a live gig as part of a module on their College courses so it ended up as a collaborative effort between all of the band and myself. I know from experience that arranging events is sometimes not the easiest thing in the world so I have to give huge credit to them for pulling it off with such success! They arranged the sound technicians for the evening and arranged for a photographer to come and document the night, they picked the support bands, did a lot of the pre-promotion via designing posters, selling tickets in advance and hounding social media and it all came together perfectly. Over 100 people attended on a Monday evening which is a respectable number for what effectively was a school night for some and they sold lots of the new EP and posters too. It's worth pointing out that when I first started working with these guys two years ago they needed so much work and it was a real up hill struggle that arranging an event on the scale of last night would have been beyond them but they proved how far they've come last night by working together and should be proud of their efforts today.
The EP itself is really strong too with three new tracks all written and recorded within the last 5 months and is a clear development from their debut EP which was only released at the end of last August. Thanks to everyone involved in the process of that EP – whether it's the recording, manufacture or design, it's a super looking (and sounding) thing.
[soundcloud url="https://api.soundcloud.com/playlists/95838990″ params="auto_play=false&hide_related=false&show_comments=true&show_user=true&show_reposts=false&visual=true" width="100%" height="450″ iframe="true" /]
I'm working on some more gig bookings for Lost Lungs but their next live date is in Ipswich on April 17th and they'll also be playing the first NMG Sessions at the Hunter Club in Bury St Edmunds on May 29th. Since my last blog post they've also been confirmed for a third successive appearance at Homegrown Festival, this time on the Friday night which will be another date to look forward to.
It's been a crazy month for The Staycations which continued yesterday with an EP launch gig of their own. This one in Cambridge at the Portland Arms – another event that attracted 100 people to see them and the two support acts. I know dozens of artists who'd love to have the support and following that this band are lucky to have – it doesn't matter where they play they bring a crowd and that's demonstrated by attracting 200 or so people to the Cambridge Junction just two and a half weeks before pulling in another 100 to the Portland Arms and that's not just friends and family but it's genuine fans of the bands music – people who will go out of their way to travel and pay to see them play their songs live and I think that's the greatest compliment a musician can be given.
The new EP 'Something Good Tomorrow' has come out really well, everyone involved should be very proud and a huge thanks in particular to John at Crooks Hall for all of his work on it. It's 'all killer, no filler' as they say and is a noticeable departure from the folk sounds of Tied in Time but it's not too much that it's alienating any part of the audience which loved that release. I suppose it's inevitable as the lads grow up, their music tastes will evolve and their song writing will change – I think they've found their sound now, one that's there's and cannot be directly compared with any other. The addition of drums, although controversial at the time has really added another dimension but it's important to note that for it to work, it needed to be the right person – someone who's on the same musical wavelength as the rest of the band and as importantly, someone they all get on with and they've definitely got that with Ben Udin.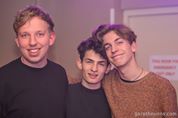 Ben (centre) with Lewis (left) & Charlie (right)
Ben 'officially' (as far as the paperwork's concerned anyway) joined the band yesterday as the band signed a new contract with me and as I was standing watching them completely own the Portland Arms yesterday afternoon I couldn't help but think back to the band they were when I first signed them 15 months ago and just how much they've developed as musicians – and human beings and all of the incredible opportunities and experiences they've had in that time. Critically though, one thing that hasn't changed is their humility – they still don't realise or appreciate just how good they are – or what their long term potential is, and that's important because nobody likes an arrogant musician! The future's very bright, I can't wait.
[soundcloud url="https://api.soundcloud.com/playlists/95836373″ params="auto_play=false&hide_related=false&show_comments=true&show_user=true&show_reposts=false&visual=true" width="100%" height="450″ iframe="true" /]
As you'll have seen from my last blog post, The Staycations were 'crowned' as the winners of the 2014-15 Fiver Fest at the Cambridge Junction a few weeks ago with another performance in front of a sell out crowd. The result in the end was close (audience votes decided it) but I thought they were well deserved winners.
We're in a busy month of gigs for the band now as we go through April. Next week see's them return to Acklam Village Market in London (4pm) and then scoot back to play a Strawberry Fair fundraiser event in Mildenhall that evening (8:45pm). They'll be guests on BBC Introducing Cambridgeshire on 2nd May and over that same weekend will be playing at the Bury Fringe All Dayer (5pm) on May 2nd and the Stortford Music Festival (5pm) on May 3rd.
We've also some very exciting news to announce at the end of the month which at the moment is strictly under wraps so check back to the website then!
The Abstracts are preparing to unleash their single 'Riddles For The Poor' this Sunday, it's the lead track from the album 'Requiem of Mr M' which will be released on Sunday, 24th May at another launch event at the Portland Arms. The band will also be launching their new website and music video for the single at the same time this week – here's a teaser:
The next live gig for them is at Anglia Ruskin University's Academy on April 16th
Finally, Motor Tapes released their new single 'Falling Away' with a BBC Introducing Cambridgeshire first play last week. It's the new release from their upcoming EP 'Count To Ten' which will be released at the aforementioned gig at Anglia Ruskin University. The band made their live gig return at the Boat House at the end of March having been away for a few months – it was great to see them back again.
[soundcloud url="https://api.soundcloud.com/tracks/197264831″ params="auto_play=false&hide_related=false&show_comments=true&show_user=true&show_reposts=false&visual=true" width="100%" height="450″ iframe="true" /]
I'll finish off with a mention to our gig with High Tyde last Tuesday which was a stormer, there are some photos in the gallery of this website and on our Facebook page if you want to have a gander.
Saturday Night Live is on again on the last Saturday of this month at the Boat House, headlined by Healyum alongside Tom Lumley and other support and we debut at the Monkfield Arms in Cambourne on the last Friday of this month too.
For details on the NMG Sessions and my radio work, you can now find it all on the dedicated website – www.newmusicgenerator.com
Thanks for reading.