I'm getting worse at updating this on a regular basis aren't I? I do have lots of genuine excuses as to why, honest!
Welcome to the August blog, I'll begin with a run through of what each band have been up to.
Starting with 28 Boulevard who have been preparing for their third UK tour which gets under way (as I write this), tomorrow! We're visiting 6 towns and cities mostly based in the northern part of the UK this time around, starting off with Sheffield – a city and venue that the band have played before then on to Evesham near Stratford Upon-Avon, Derby, Stoke on Trent, Blackpool and finishing off in Manchester.
Going on tour is always good fun so this week should be a laugh and if I ever need a reminder of what's in store I just need to watch this video:
The band haven't played many gigs lately but they did make the trip up the A14 to Bury St Edmunds to take part in Homegrown Festival's 'The Road to Homegrown' which was a last opportunity to select acts for the event which takes place at the end of the month. They impressed the festival organisers and won a slot on the Sunday evening so that's another date for the diary once the tour is over.
My time with Lost Lungs comes to an end in a few weeks with their set on the Friday night at Homegrown Festival being their last. They have been pretty quiet for the last few months though in all honesty so I'm not sure quite how much it will hit me during that last gig as I suppose I've already had a few months to get used to it. Those who've kept up with my blog posts over the last few years will know how much of a pleasure (in general) it's been to work with them so I'd like to wish them all the best in the future for their endevours at University, in work and in some cases, new music projects.
Here's how they announced the news:
In contrast, The Staycations have been very busy gigging over the summer taking in all sorts of different shows from village fetes in Mildenhall and Melbourn to grand affairs such as the Selwyn College May Ball and from festivals including Green Meadows, Rhythms of the World and Secret Garden Party to venues like the John Peel Centre supporting upcoming US artist Ezra Firman. I could pick out three highlights from those – the first being Rhythms of the World Festival which was memorable because it's scale was so unexpected. The stage the band were playing on was the biggest I've ever seen an unsigned band perform on and they didn't let that faze them – in fact it spurred them on to put in a really strong performance. The whole festival was really well organised and a pleasant place to spend a few hours. The second highlight was a last minute gig offer at the John Peel Centre in Stowmarket which turned out to be full of people all there to see the main act but obviously were already assembled in the room when The Staycations went on to perform – they went down really well and came away with some positive comments not just from the audience but also from John Peel's wife Sheila who runs the centre – there are worse people to become your new fan! Finally, Secret Garden Party has to be included simply because of it's stature. It's the one the band had wanted to play and were made up when they found out they were going to get that opportunity. Another festival that's really well laid out and one I wanted to explore more but unfortunately I could only stay for the Thursday which is when the band performed. In the end I think I made the right decision as mother nature wasn't too kind for the remainder of the weekend! The band played in the Living Room tent which is one of the most established stages on site and were in good company with many other local bands they know well playing too. Some photos of the SGP day are below: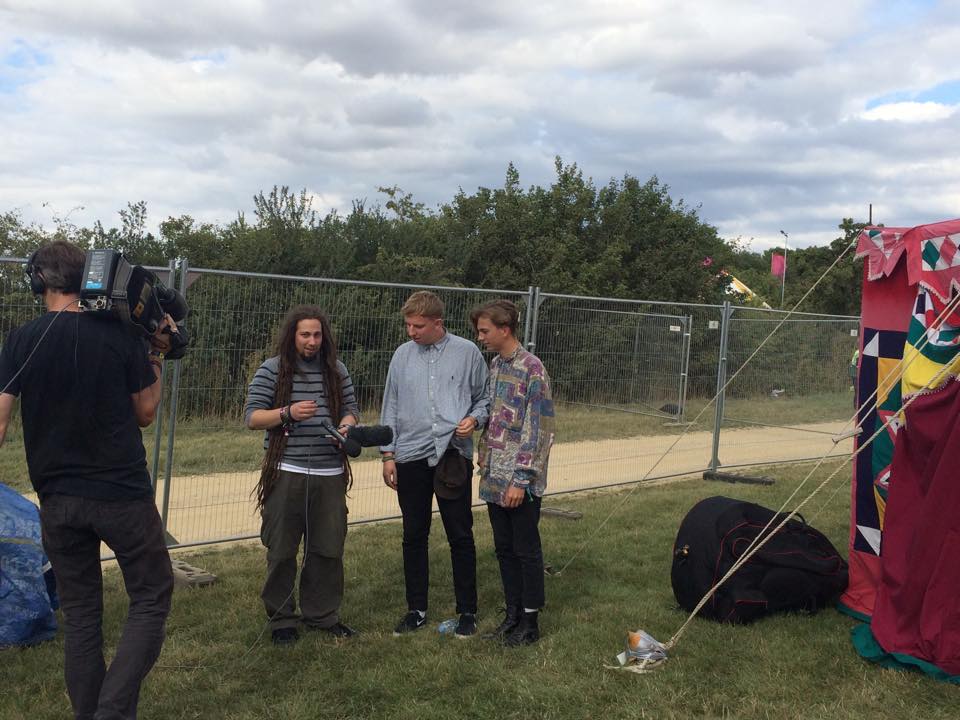 Lewis & Charlie being interviewed by Tom Simkins of BBC Introducing.

The Living Room stage
Coming up, the band play Homegrown Festival on Saturday evening and are performing at the Cambridge Junction twice in September (once in J2 and once in J1) and also playing the Hunter Club in Bury St Edmunds as part of the BurySOUND launch for 2016.
Another band who've been very busy gigging are The Abstracts taking in events including VW Whitenoise, Brightlingsea, Surya and Proud in London and Gig in the Garden. In amongst that they've recorded a new music video for their track …BAT!!! which will be released in the coming months and are preparing to release their next single 'Smells Like Summer' next month.
Upcoming gigs include Esquires in Bedford, Spice of Life in London, The Bull in Haverhill – and a UK tour for the middle of October is being finalised.
My working relationship with Motor Tapes comes to a conclusion at the end of this month, the band will be taking a break to work on new material and have an announcement to make soon as well. I hope to work with them again next year when they have more new music to release.
Finally, Bury The Light are working on new material at the moment before they return to gigging in September including playing at the Cambridge Junction and they're also on the bill for the next NMG Sessions at the Portland Arms.
Away from the bands I've been involved in various live music events over the past two months. In my last blog I was gearing up for Alex Fest which came and went very successfully with 20 artists playing live across two days and over £1,000 raised for charity. Unfortunately a few days later the venue received notification that the council were issuing a 'noise abatement notice' against them as someone had complained about the amplified music over those two days. This was very disappointing as the landlord had made every effort to make locals aware of the event and the live music finished by 10pm on each evening. Nobody complained at the time in person so it was more surprising to receive this letter just a few days later. Anyhow, we set up a petition which has received well over 400 signatures to date and we have the support of many local councilors in the area as well as the leader of the city council in our quest to get the abatement notice over turned. There will be an announcement on progress made on this very soon.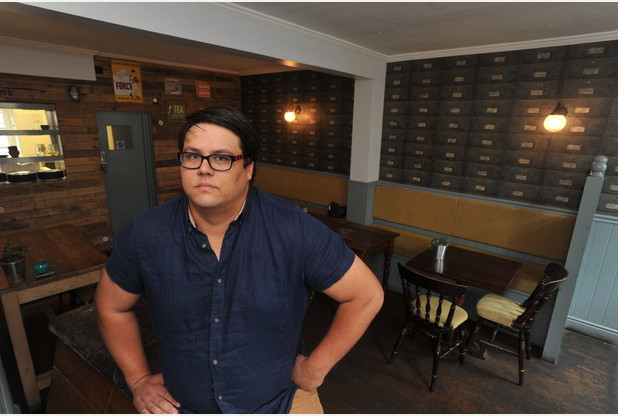 Ed Barker – Landlord of The Alex. Click the photo for the full article.
I am 'Artist Liaison' for Homegrown Festival this year which means I am responsible for 46 bands and artists which are performing across 3 days. I know most of the artists in person through my radio programme and I have heard the others having been part of the team which put the festival line up together so it should be a lot of fun. Cambridge 105 are also broadcasting from the festival for the first time this year so I'll also have my radio pals on site too.
If you're not aware of Homegrown Festival then check out the poster: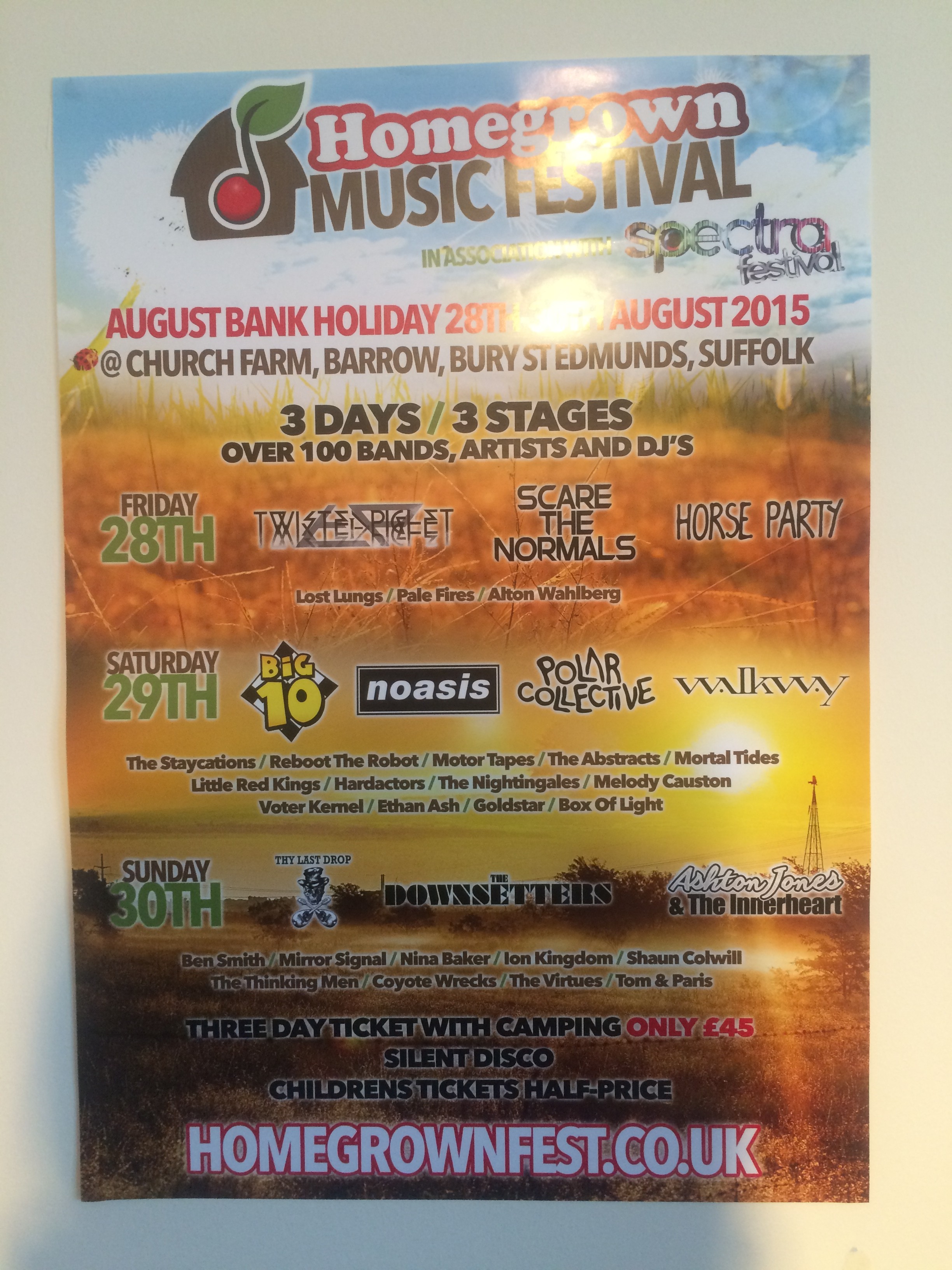 Finally, The NMG Awards were launched for 2015 this year. The headline information is that there are 100 artists nominated across 15 categories this time round – the most we've ever had. Phil Pethybridge (promoter and music guru from Ipswich) is joining the panel this year as Sue Marchant, Tom Simkins, Joe Weaver, Fred Bambridge and Gary Brown all return and Sheila Ravenscroft has given her endorsement to the event this year for the first time and will hopefully be able to attend on the evening. For all the information and for tickets, visit www.nmgawards.com
When I write again the summer will be over and we'll be counting down to those Awards!
Enjoy the rest of the nice weather while it lasts!