Welcome to the latest edition of my blog. When I wrote my last entry, the sun was still shining and festival season was in full swing but now the nights are drawing in and we're looking forward to Christmas!
As is the tradition, I'll bring you up to date on everything which has happened over the past few months and we'll begin with STAYCATIONS who had just released the first of two new singles when I had posted the last update back in July. That track 'The Enemy' has now received over 20,000 plays on Spotify in just three months and that has resulted in the bands Spotify account receiving that much sought after 'little blue tick' which means that they are verified. Verification has lots of benefits, including us being able to see who exactly is listening to the bands music and where in the world they are from but it also gives the bands music more exposure as they come up higher on search results and they can have their music tagged in playlists which often go viral. The follow up single 'Hey Guys' was released in September and is already the third most popular track on their Spotify profile so that bodes well.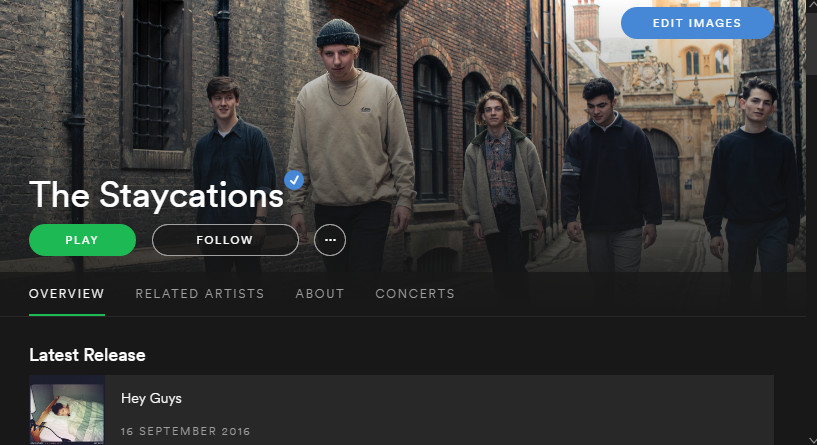 Since the summer, I've begun to break the band into the London scene. Experiences of playing gigs in the capital can vary depending on who you speak to but I feel if you're quite savvy about how you go about it, it can be worthwhile. The trouble with London is it's such a vast city and you can very easily make the trip down and find yourself performing to an empty room. A lot of promoters want guarantees that you can bring a crowd to watch too which for a band like STAYCATIONS is difficult at this early stage. That said, we've had two positive experiences to date which began with a gig at Nambucca in Islington at the beginning of September and followed up last week by a trip to Earls Court to play The Troubadour. Experiences like last Thursday remind me of how much fun working with a band can be and now they are a little older and able to get to gigs without parents assistance it gives me an opportunity to spend time with them and have some fun. The drive to London was interesting because it took us all the way through the centre of town – right past Big Ben and the London Eye, before I knew it we were driving down the Mall and face to face with Buckingham Palace! The gig itself was great, very well attended by a crowd of people who seemed to just be there for the love of music rather than having been dragged there to watch one of the support acts. You never quite know whether a crowd will stick around and watch when they're not there necessarily to see you and in this case it was quite late on a school night by the time the band went on stage but nobody left and they were very well received. It's important for the band to experience playing a gig in a new venue and to a crowd of people who in most cases weren't familiar with them and they handled it very well.
Speaking of growing up, all of the band have completed compulsory education and the intention for this year is for them to be able to spend more time on the music in order to take advantage of any opportunities which come their way. The band have been attracting some interest from additional management, labels and record producers over the past few months which is fantastic and great timing because in order to push them to the next level we need to add some more experience and contacts to our team. I'm very open about the fact that I'm always learning, I never set out to manage bands so every day over the past 4 years I've been learning new things and building contacts along the way. I'm pretty well connected in East Anglia but there is a whole world out there to be explored and so this is why it's important that others with the same passion and belief in the band as I have come and join us to help push on. Without going into too much detail, things are looking exciting for the band this year and they are looking forward to going back in to the studio to record new material in December.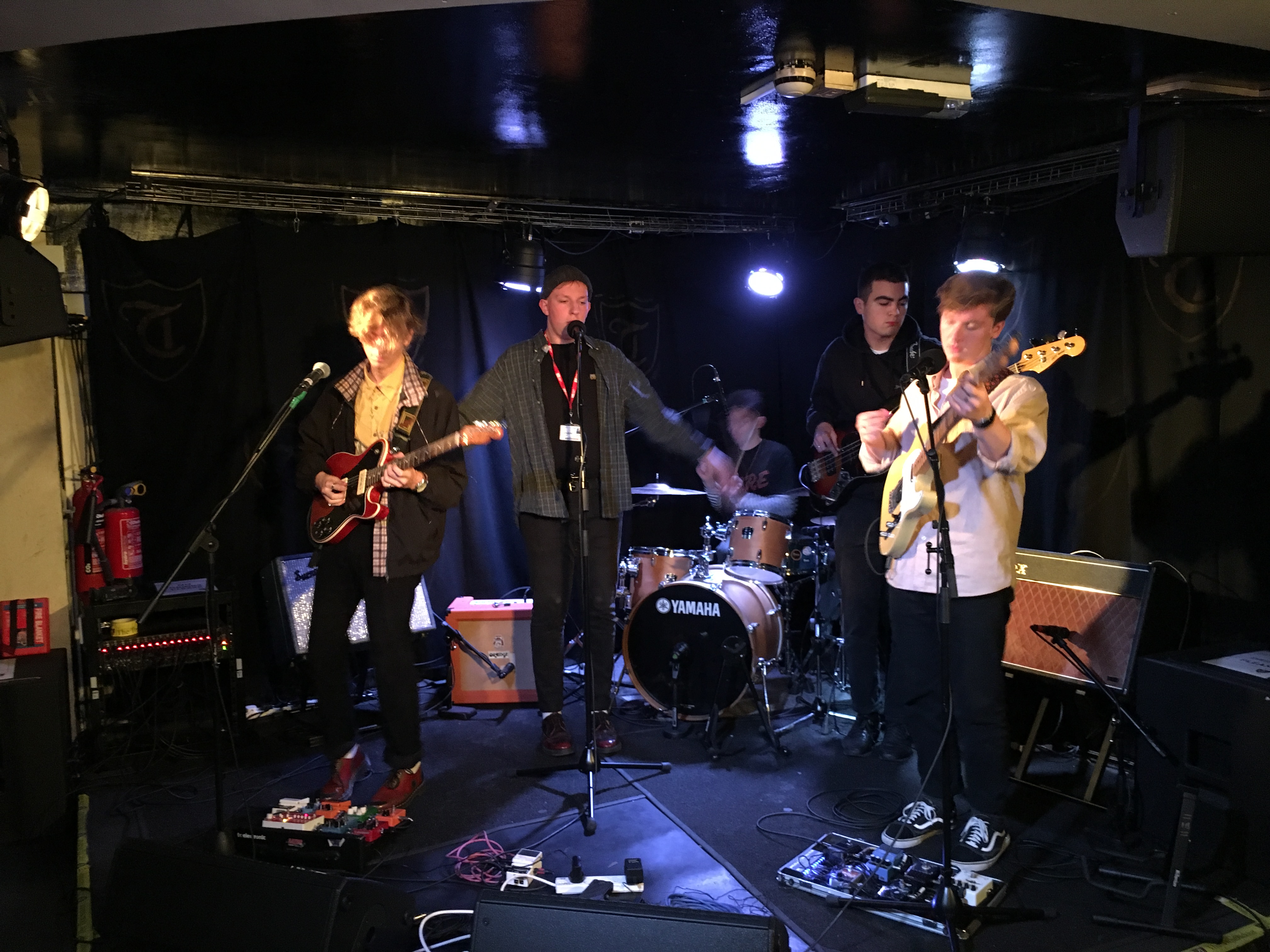 I'll make numerous references to the NMG Awards in this blog as they took place a couple of weeks ago. STAYCATIONS had won a trophy in each of the previous two years but this time round they walked away with an 'artist development prize' which is the opportunity to perform at the Big Weekend in 2017 on Parkers Piece. An occasion we're all looking forward to.
I see a lot of similarities to early STAYCATIONS in Deep City (although Deep City aren't playing folk music), they're a couple of years younger and are still very much going through a period of refining their sound and developing themselves as musicians and live performers. They've been working hard behind the scenes to add extra elements to their live show and they're always thinking about ideas which brings the best out of their songs when playing to a live audience. I've really noticed little improvements in every gig I've seen them play recently and they reached a new peak last month when they returned to play at the Cambridge Junction. I think it was the third time they've played the venue and whilst other bands their age return time after time and sound the same, these guys have demonstrated a real step up. Adding in extra electronic elements in the form of a backing track and synth parts brings their songs alive, they crafted a short intro sequence and have re-arranged the order of their set so it flows better. From a stage presence point of view, there is more movement and they look a lot more relaxed – in particular front man Stan who combines singing with playing synth and guitar effortlessly. I was really proud of the performance they put in last month but having said all of that, we all know they can improve further still and with that in mind, it's exciting to see where they go next.
They won Best 18 & Under group at the NMG Awards which was very well deserved. No other band in their category has had the year that they have had and all of the judges were struck by how mature their songs sounded for people of their age. The challenge that has now been set by them winning is to keep that run going and be in a position to win again next year. The guys have been in the studio working on a new single which we hope to have finished by the end of the year.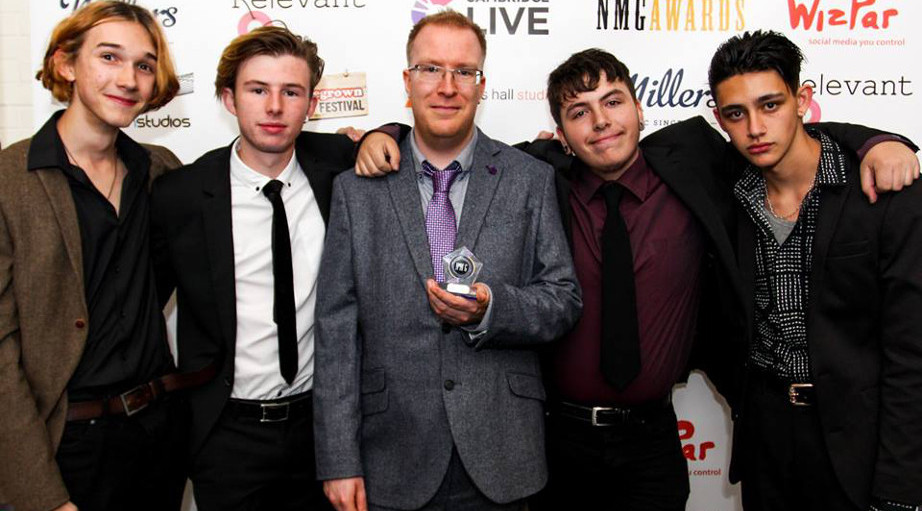 Similarly, History & Lore spent a few days in the studio during the back end of the summer and came out with two amazing tracks. Each are very different to one another, one is very upbeat and quite rocky whereas the other is a lot more laid back and emphasizes the intricate and delicate side of the bands music very well. Thanks to Tom Joy at Crystal Sound Studios for working with the band to produce something we all came out very happy with.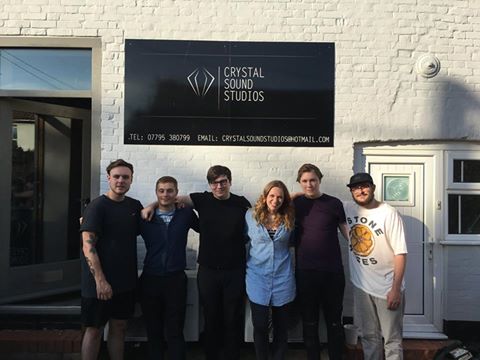 The band are playing at the Open in Norwich next month as part of an event run in association with BBC Introducing in Norfolk. It's great to have the support of both BBC Introducing in Norfolk and Cambridgeshire, both are very excited to hear what the bands next move will be.
They also walked away as winners at the NMG Awards, taking the very competitively contested Indie category. It's the third time that a band signed to OTC Promotions has won the category (28 Boulevard in 2014, STAYCATIONS in 2015) so I suppose that proves we're doing something right!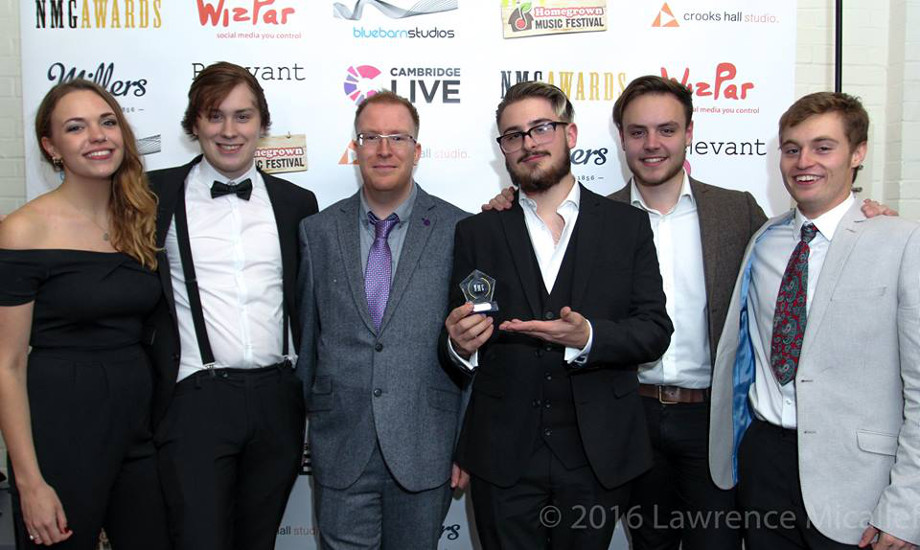 All great things must come to an end though, as they say so as the band need to prioritise their University studies, we've mutually parted ways for the foreseeable future. I've had a fantastic year working with the guys who I now consider friends and will always be proud of what we achieved together. I hope to get the opportunity to work with them again in the future.
I will conclude the blog with a round up of what the other artists we work with are getting up to. Beginning with The Abstracts who have just completed their second UK tour which took them to cities including London, Manchester and Derby. That came off the back of a very strong festival season where they played Cambridge Rock Festival and Green Meadows Festival to big crowds. Whilst still gigging here and there, they are working on writing new material.
Searching Grey also put in a barnstorming performance at Cambridge Rock Festival which underlined how their live sound is really starting to come together. They've been in the studio working on a selection of new tracks, all of which are fantastic and meant the debate as to which would be the lead single was interesting! They've been working alongside Matty Moon (Lonely the Brave) who we last worked with on STAYCATIONS and he's really brought the tracks to life. We're preparing to release the lead single 'I' very soon with plans to film a music video also under way. Shout out to the band who reached the top 5 in the NMG Awards Audience Choice vote which after only a year in existence, is a great achievement.
Meet Me At Dawn have been quietly working away on a new EP which will see the light of day very soon. They're back on stage too next month at the Cambridge Junction and have quite the show in store.
From November, I will be working with Christian Smith & The Whistlers who are a more country-sounding band (very on trend at the moment). They will be working with Chris Taylor at Bluebarn Studios to record a new EP which will be released over the next few months alongside an increase in live dates.
I'll sign off with a heads up to December 17th when one of our 'old' bands will be making a one off return. 28 Boulevard are on the bill for the Christmas Fiver at the Cambridge Junction, it'll be the first time the band have all played together in original line up for over a year. It'll be good to catch up!