With a day and a bit remaining I thought I'd spend some of my 'post Christmas, pre New Year' down time writing a final blog post of 2014.
It's fair to say that as far as Off The Chart Promotions is concerned, the last twelve months couldn't have been much better with all of our artists developing in leaps and bounds and each experiencing some really special moments which will live long in the memory.
I thought I'd round off the year by bringing the story up to date as far as what each artist has been up to and picking some of my personal highlights from each.
We'll start with 28 Boulevard who are the band with whom I've been working for the longest, in September we notched up two years and I can still remember vividly to this day the very first meeting I had with them in the Cambridge 105 office before I signed them and at the time I had very limited knowledge of what I was doing so as much as they've developed in the last two years so have I in my knowledge and contacts. In that time they've been the guinea pigs for a lot of things, some worked out very well and others not so but I'm sure they forgive me for those! Since then they've gone on to release three EPs and a double A side, embarked on two UK tours, featured on radio shows across the country (and in some cases, beyond) and gained a fifth member in Cameron plus much more.
2014 ended for the band with a rush of gigs in December including a return visit to Anglia Ruskin's Academy, supporting Haus & Zibra at the Portland Arms for It's All Indie and definitely one of the best gigs they've ever played at the Cambridge Junction just over a week ago.
2015 begins with a gig at Charlie Wright's in London on January 16th and work on another new EP gets under way too.
My 28 Boulevard highlight of 2014 was the wave of positive response from the critics and general public surrounding the bands 'Sunclouds' EP release which came out back in April. It's actually one of those things which looking back I realise was better than it felt at the time – people were writing about the EP without us even asking them to! The highlight within that highlight was the band being featured (albeit a tiny section, but still featured!) in NME magazine. It was very cool buying the magazine knowing that they were featured within it.
My 28 Boulevard live gig of the year was the very last, coming on December 19th at the Cambridge Junction. If ever a band deserved to play to a pack and very engaged crowd it's this one and for one reason or another it's never really happened. They were the class of the field with a very professional and polished performance that only comes with constant gigging practice. I'm of the opinion that when judging a live performance it should be split in to two criteria – stage presence and how the crowd engages with you and technicality in terms of how well the tracks are played, how good the vocals are etc. On this occasion both were spot on and I think that's a difficult thing to master – I heard some of the live recordings earlier which we'll be using on some live videos to be released soon and they sounded (to use a teenage-ism) sick!
2014 gig count: 30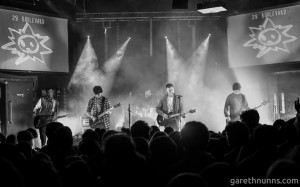 Live at the Cambridge Junction, December 2014
The next act up, the second longest members of the Off The Chart Promotions rosta notching up 20 months (really?!) are Lost Lungs.
2014 ended for the band with a day recording the new single 'Knock, Knockin" (I don't know whether that was supposed to be public knowledge yet, if it wasn't – oops) which they did with Michael Smith from 28 Boulevard who's set himself a home recording studio and the results which he manages are very impressive (more on that later). The single has to be sent for mastering and then we'll be releasing it as a free download in a month or so's time.
2015 begins with a first gig of the year at the Hunter Club in Bury St Edmunds on January 17th which is a fundraiser for the venue to invest in further soundproofing which will safe guard it's future as a music venue going forward.
My Lost Lungs highlight of the year is the band finally releasing their debut EP at the Homegrown Music Festival at the end of August. We sold half of the stock in one day and the rest has since pretty much been sold out since. All those hours spent painstakingly folding inlay booklets and burning CDs were worth it. I felt that was one occasion when the band really proved they had something and were ones to be taken seriously, especially amongst their musical peers where in the past people could have been forgiven for being of the opinion that they weren't a serious outfit and were just five mates having a bit of a laugh. The other occasion where that really struck me was..
My Lost Lungs live gig of the year at the Apex way back in March when they were approached to support Toyah Wilcox on her UK tour. A lot of rehearsal went in to that gig and so I remember very well my feelings as they were performing as they nailed everything we'd been working on – I think it still is their most professional performance to date. It was the biggest crowd they've played to as well and since then we've discovered some of those people have become fans of the band and have been to subsequent gigs.
2014 gig count: 23
And finally – quite honestly, the revelation of the year were my newest signings. The Staycations who signed back in March.
I seem to have a habit of signing bands without ever seeing them properly play live (I did the same with Lost Lungs) but I remember the hype surrounding these lads which started from when they played at the Cambridge Christmas lights switch on and then continued when they entered in to the Under 18 band competition. I was a judge for that competition but the heat that they entered was the one gig I couldn't get to but I was finally introduced to them when they came to play for me on Star Talent and there was just something about them which told me I had to sign them up. They've got very endearing personalities, you instantly warm to them when you meet them and I think that coupled with their obvious talent and bags of obvious potential was what rang bells for me. Signing them has really developed me as a manager too, I've made new contacts and had so many new and fun experiences this year that I simply would have not had without working with them so I owe them a thank you for allowing me to work with them on that score. These guys are my long term project, whilst the likes of 28 Boulevard and Lost Lungs have University looming at the end of 2015, The Staycations don't – so, provided they don't sack me we've got at least another two years to build on what's been achieved in 2014 and that's an extremely exciting prospect!
2014 ended with another near sell out performance at the Cambridge Junction in what was the busiest Fiver night in years and the majority of those people present were there because of this band, that's mind boggling in itself.
2015 begins with a relative quiet period working up to recording a second EP release which will be recorded in mid February. There are a couple of gigs at the end of January including a return to Acklam Village Market in London and an Acoustic Fiver in Cambridge Junction's J2.
My Staycations highlights of the year are their performance to a very appreciative crowd in the Den at the Cambridge Folk Festival – as it's a local event some people lose sight of just how prestigious this festival is and how people travel from around the world to visit so to get an opportunity to perform a showcase slot there is very precious. My other highlight is two-fold – firstly, sitting in the judging meeting for the NMG Awards listening to a panel of local music experts unanimous in agreement that this band should be recognised in some form having narrowly missed out on their main category – and then seeing the band's reaction to finding out they'd won the Breakthrough Award and their adorable acceptance speech both on stage and backstage.
My Staycations live gig of the year is their October date at the Cambridge Junction. The December date may have been better on some counts but this one stands out slightly higher because the sheer numbers of people in the crowd was so unexpected by us all, I spent most of the gig trying to take in quite how many people there were in the audience than watching what was happening on stage.
2014 gig count: 28 (since signing)
All in all, it's been a brilliant year and I continue to thoroughly enjoy working with all three bands and look forward to what we can achieve together in 2015.
As a slight side note, I want to give a mention to Michael Smith from 28 Boulevard's solo project. Here's someone who's really using his gap year wisely by not only working on band material with 28 Boulevard and recording other artists such as Lost Lungs but has spent time writing, recording and mixing an album's worth of solo tracks in a studio at home which he's built up himself and he's releasing this album under his solo alias Michael Robshaw which is titled 'Straight Eyed Pessimist' on 7th January.
I decided against officially signing Michael as a solo artist because I felt it conflicted with my interests for 28 Boulevard in a year the sole aim is to push the band as far as it can go before September rolls around but I have been and will continue to help and advise him on this project. From hearing some of the demos of tracks on various car journeys over the last couple of weeks to setting him up with digital distribution on iTunes etc and logging PRS. I wanted to write publicly that I'm very impressed with everything that Michael has done with this album, he's worked very hard on it and by the looks of it, it's already getting the positive public feedback it deserves and as someone like myself who can't write a song, sing or play an instrument to save my life (I hope that will change one day), it makes me all the more impressed.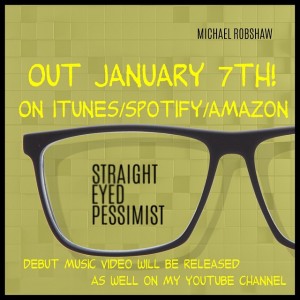 In other news, I'm very happy to announce that 28 Boulevard have signed off on their first official product endorsement! All of the lads are being endorsed by Dovetail Strings who will supply them with guitar and bass strings for their gigs and live appearances in 2015.
Finally before I move on to non band related business, In my last blog post I teased a couple of announcements. I've just made one (directly above) but the second will come very soon, I'm just waiting on a final sign off before I can talk about it but involves two of our bands and is very exciting indeed! I hope to be able to post something about it next week.
The NMG Collective project has concluded now that Christmas Day has been and gone. The final total looks like it's going to be around £400 raised for both Cambridge 105 and CASUS which is a satisfactory total. In truth I was hoping for a little more and feel let down by a few quarters who didn't support the record in the way I was hoping for but I want to thank everyone who did, especially those who bought a copy.
The music video has been seen by over 1,000 people on Youtube and all of the feedback I've had about the record has been nothing but positive. Thanks also go out to those people who helped promote the record in the build up including those at BBC Radio Cambridgeshire, Cambridge News and Gary at the Cambridge Junction for allowing us to do a live version
The video of the live performance will surface in the coming weeks and a podcast of the excellent Cambridge 105 documentary in to the making of the record which aired on Christmas Day will be available by the end of this week too.
Just another one of my crazy ideas which sort of worked!
Gig wise, the line up for the next NMG Sessions is almost complete with The Cogo performing alongside From The Sticks, Soothsayer and one other artist TBC. It's at the Portland Arms on February 19th.
And the line up for the first of the new Boat House nights (dubbed 'Saturday Night Live') is Soothsayer, Charlie & Molly, Rachel Clark and The Hot Lights. That's on January 31st.
The New Music Generator returns to the radio on January 7th with guests Glue and the following week on January 14th I'll be joined by Shaun Colwill and his band. I'm booking guests for the show for January and February now and have a long list to approach including some well known names – fingers crossed some of those come off.
There is big news regarding the radio show to come but I can't share any of it just yet. Hopefully all will be sorted before my next blog post in  a months time!
What was intended to be a short blog post hasn't quite turned out that way but all that remains for me to do is to wish anyone reading this a Happy New Year, see you on the other side!