Where did February go?! I know it's a few days shorter than the rest of the months of the year but still, it only seems like yesterday I was moaning about how it was still January.
Being as I've missed the chance to write a blog entry for February, this one doubles up as one for March too.
Beginning with 28 Boulevard and actually back tracking to January for a minute because it was during January that their single 'Cinnamon' made it in to the UK Top 200 Airplay chart, just a few places off the new single from Madonna at the time. Thanks should go to Emma Scott at Pluggin Baby for her work on getting this single, and it's predecessor 'Well Hello' on to radio playlists – clearly she was doing something right! If you don't believe me, photo evidence is provided..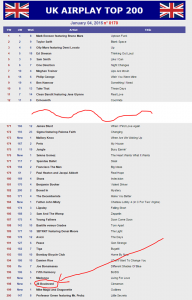 Last month the band released a couple of live videos from their most recent visit to the Cambridge Junction back in December, they've been edited with multi camera angles and look rather splendid, check this one out for Hypnotising Alibis
Speaking of video and TV, the band have been helping out some students at Anglia Ruskin University with their final year project whereby they had to put together a tv panel game show and they needed two local bands to take part in some silly rounds and perform live too. Step forward 28 Boulevard and The Abstracts who have over the past three weeks been recording various elements of the show which culminates (as I write) today. Tim and Cameron have been doing most of the work as there were only two members permitted in each team – hopefully we'll see the finished article soon and find out who wins!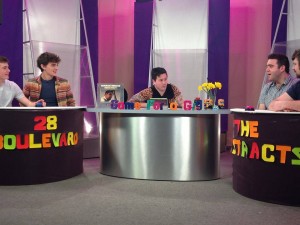 There hasn't been much in the way of live gig action recently but next Saturday see's the band join the Abstracts once again, this time at the O2 Academy2 in Islington, London. Tickets are still available at £10 each and an additional £10 will get you a return coach trip.
Interested? Check out the gig poster below and grab your tickets online at 28boulevard.bigcartel.com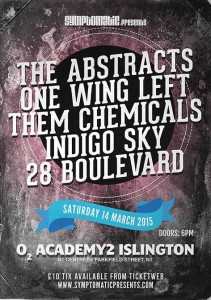 Finally, there is new music on the way from the band in the next few months – tracks have been recorded so we're now in the process of deciding which make the cut to the EP and what the release will be called. Watch this space.
Lost Lungs have been busy these last few weeks, gigging in Ipswich and Bury St Edmunds and then took the time to record a new EP over three days late last month. The EP will end up being three tracks, incorporating the single which was released a few weeks ago 'Knock Knockin' plus two previously unreleased tracks. Thanks to Michael at Acorn Oak studios for his work on all three tracks.
Since my last blog update, the band released some new photographs from a follow up shoot with Harry Raven (Harry did the artwork for the bands debut EP). Don't they scrub up well?
We're having a launch event at the John Peel Centre in Stowmarket on April 6th to celebrate the new EP with more details as to support artists and ticket prices to come soon.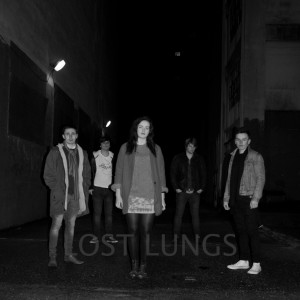 In what you'll see as a developing theme, The Staycations have been in the studio over the last few weeks too putting together their second EP release. As I touched upon in my last blog post, we went to Crooks Hall outside of Haverhill and stayed there for 4 days during the February half term. It ended up being a very productive stay with 6 tracks recorded which are now in the final mixing and mastering stage before again, we decide exactly which will make the cut and what the release will be called (de-ja vu anyone?). I was impressed, but not surprised by how the band acquitted themselves during recording – always managing to do everything in one or two takes and giving great feedback to John Metcalfe, the engineer about how they wanted to change little bits or coming up with some really cool ideas to try to make the tracks sound even better. The finished product is really excellent and I look forward to hearing what people think about it.
The band are also having an EP launch event on April 6th (that'll be a busy day), this time in the afternoon at the Portland Arms. More information on support acts and ticket pricing to come very soon for that too!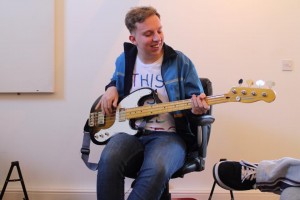 The band were back gigging again as a five piece yesterday at Anglia Ruskin University in the Academy – a venue I am fast becoming to think is a bit of a hidden gem. The way the students there transform an empty space in to a bonafide gig venue with a great tall stage and impressive lighting and sound rigs is very impressive and I'm sure if lots of other local bands knew about the opportunity to play such a nice set up – especially in a city where nice venues are few and far between.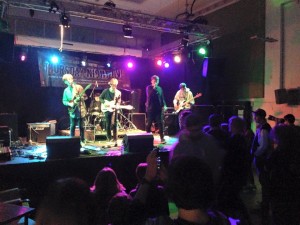 They're back on stage on Saturday at the Hunter Club providing support for The Thinking Men and then the next big date in the diary is the Cambridge Junction Fiver final on Saturday, 21st March. It's the second time I've had interest in the final, fingers crossed one of the bands we work with wins this one!
Tickets are available from any of the band members at £5 if you want to be part of what I'm sure will be a memorable night.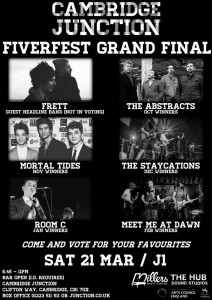 Plans are taking shape for the Abstracts new album release which will be out in May, preceeded by the single 'Riddles for the Poor' and a great new video shot by Josh Armstrong. The band are too having an album launch event at the Portland Arms in May with support and ticket information to be announced..!
The Abstracts, as I mentioned above, are also playing the O2 Academy2 in a week's time and will be represented in the final of the Fiver Fest at the Cambridge Junction so it's a busy time.
They did gig with a 'legend' last weekend though, Nik Kershaw (of 'The Riddle') fame was on the bill at a fundraiser in Saffron Walden that the band played. Here they are with Nik..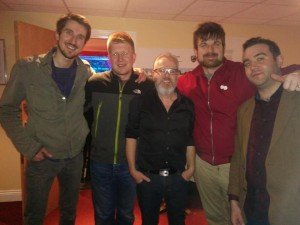 And last, but not least. Motor Tapes – and guess what? YES! They're releasing a new EP soon too. This one comes out mid April and is the first new release of music since the band put out their single 'Everything' last year.
The band are also back on the gig trail for the first time this year, playing at Saturday Night Live at the Boat House at the end of this month and then at Anglia Ruskin University next month.
If you haven't seen the video for the single 'Everything' yet, it's below and will whet your appetite for the new EP!
On to gigs and Saturday Night Live at the Boat House in Chesterton is going well. Last month we had Shaun Colwill and his band headline supported by Melody Causton, Grant Tuffs and Elliot Porter.
Next month it's Motor Tapes alongside The Woodleys, Mark Shepherd & Ollie and Will. It's free entry and takes place on Saturday, 28th March from 9pm. See you there?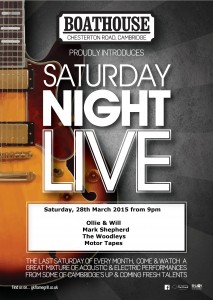 I'm also pleased to be able to confirm we're running similar events at the Monkfield Arms in Cambourne on the last Friday of each month and also regular nights at the Dolphin in Melbourn from April. Details on those gigs in the next blog I'm sure.
The NMG Sessions return in April with a top line up of rock talent including Too Cool Kid, Plumbjam, Ion Kingdom & Fenrir. That's on Thursday, 23rd April.
The gig in May features Motor Tapes, The Hot Lights, Datum Plane & one other TBC. That's on 28th May.
In radio land, The New Music Generator launched on two new radio stations this week so now in addition to hearing us on Cambridge 105 every Wednesday from 7pm, you can listen on Biggles FM and Zack FM on Thursday from 10pm. Biggles FM covers Biggleswade, Sandy, Potton and surrounding areas and Zack FM covers Mildenhall, Newmarket and Bury St Edmunds. I have a brand new website for all radio related things – it's www.newmusicgenerator.com
Finally, along with Glen – Festival Director, I whittled down the 100+ applicants for Homegrown Music Festival this week. We picked our first batch of 'definite s' which we're going to be approaching shortly to offer stage slots to. The standard of entries was very high and whilst it was great to see so many artists I know well enter, it was also nice to discover plenty of new ones too!
I hope to also work with Lodestar Festival, Alex Fest and Cambridge Rock Festival again this year – and will soon be turning my attention to programming the Cambridge 105 stage at Strawberry Fair.
That's all you need to know for now, the next full blog entry will be in April after Easter. Lots will have happened between now and then!
Cheers.