Hello you! And if it's not too late, Happy new year!
We may only be 27 days in to the new year but it has already been a busy one for me, in fact I've only just realised quite how busy it's been when it came to preparing to write this blog. As months go, January's a pretty rubbish one so before Christmas I consciously decided I was going to pile myself up with new projects to get off the ground so that I didn't have much time to sit around and succumb to the general post festive season depression that affects people at this time of year – it seems to have worked. There is lots to talk about in this months blog so let's get on with it…
I'd like to begin by announcing that I have signed two new bands to Off The Chart Promotions over the last couple of weeks. My career path and aspirations have changed a little since I first started doing all this management malarkey, I see myself less as the next Chris Moyles and more as the next Simon Cowell so these days I spend more time working on managing artists and putting on live events than I do sitting in a radio studio and with that in mind I'm very much looking ahead to the longer term in this decision.
Without wishing to blow my trumpet, I get approached on a regular basis by people asking for me to represent them and even though some offers are very tempting through circumstance and commitment to whoever I was working with at the time I have had to decline, incidentally I was contacted by a band from Wigan asking the very same thing last week – I'm sure Wigan is a lovely place but it's a bit far for a commute! Anyway, both of these bands I have since signed are ones I know very well indeed and i've been supporting them through the radio for the last couple of years, both I've had opportunities to work with before now so when the time was right to expand a little they were at the top of my list.
I'm pleased to be working with The Abstracts who are one of Cambridge's best loved and followed artists, and a band who've been on the scene for a number of years. Felix, Ben N and Mark came back on the scene a year ago and turned their previous trio into a four piece with the addition of Ben T on a second guitar. 2014 was a very busy come back year for the band as they were in demand playing gigs across the local area and in London and they spent a large chunk of time working on a new album which will be released soon. They've really picked up where they left off and are undoubtedly now stronger than ever with lots of exciting things planned for this year. They will be teaming up with 28 Boulevard for a gig at the O2 Academy in March and the aforementioned album is slated for release in May.
I have also signed up Motor Tapes who are a band who really have come on leaps and bounds since I was first introduced to them several years ago. Every release they've come up with has been a marked improvement on the previous and they've also gained quite a following in Cambridge, one of their highlights was playing the Cambridge Junction twice last year, winning one of the heats in the process. This band work incredibly hard on producing their music going through a painstaking process and won't let anything see the light of day until it's completely polished to their very high standards. Their live sets have really improved too, I remember being taken back by just how slick they were when I saw them perform at the Portland Arms last year. Motor Tapes have been quiet lately as they've taken a little break whilst also finishing off their new EP which will be released in April but they'll be back on the gig circuit soon.
Both The Abstracts and Motor Tapes have signed promotion deals which means I will be working with them in booking better gigs in a wider range of places and better venues and whilst also hoping to whip up a PR storm around their new releases utilising my contacts within local radio and press to create a buzz. I look forward to working with both during the year ahead and have updated this website's events calendar with upcoming gigs for both bands.
With my time spent working in radio scaled back at present I will be able to assist both the two new bands as well as continuing to manage our longer standing artists to the best of my ability.
28 Boulevard were back gigging again a couple of weeks ago with a set at Charlie Wright's in Hoxton, London. It's only the third time the band have played in the capital and on reflection this probably was the best gig in terms of their performance and crowd response. Unfortunately our bad luck in the city continued – following on from having a guitar stolen on our last visit, some nice person/people decided to smash my car window that evening. I won't be driving to London again!
The band have been working on recording new tracks recently, most of which will make it on to a new EP – the release date of which is subject to much debate! As with Welcome to Wester, this EP has been self recorded by the lads themselves. I've yet to hear any of the new stuff yet so I look forward to doing so.
We did release a video for their track Cinnamon a couple of weeks back though, it's a simple concept but I rather like it. Check it out:
This time of year is all about planning for the spring and summer so with that in mind I've been applying on behalf of 28 Boulevard to lots of festivals, some local and some much further afield. You can never tell how many of those applications will turn in to gig offers but it is quite exciting to have a blank diary in the summer and see it fill up with gig dates. Whether it's Glastonbury or the Gloucester cheese festival (I made that up), hopefully they'll be there!
One place they definitely will be is playing at the O2 Academy in Islington on 14th March, undoubtedly the best venue the band will have played in to date – certainly the most well known. We're teaming up with The Abstracts for this one and we've also hired a coach to take the hoards of Cambridge fans to and from the gig(!). We're selling a gig & coach ticket for £20 and if we can interest you then you can buy tickets online at 28boulevard.bigcartel.com
The band I've seen the most over the last few weeks is Lost Lungs who already have two gigs under their belts in 2015. Two weeks ago they supported the Hunter Club in Bury St Edmunds fundraiser which was a really well attended night and a really good example of a community of passionate people coming together to support a venue they really appreciate through the shared love of live music.
Last Saturday took me to the Steamboat Tavern in Ipswich where the band have played on a couple of previous occasions but the last time I was there was for the last gig the band did with their previous singer which was almost 18 months ago – boy have they come on since then!
The band will be releasing a new single in a couple of weeks time, Knock Knockin' was recorded just before Christmas and is currently being mastered, it will be released as a free download as a tease ahead to the bands next EP which looks like will be recorded in February.
Lost Lungs are back at the Hunter Club supporting Benjamin Bloom on 7th February, looking forward to that.
January has been quiet for The Staycations in terms of gigs with their first of the year coming on Friday for an acoustic Fiver at the Cambridge Junction. Over the past few weeks the band have been finalising and rehearsing the tracks they want to record for their second EP and we're off to Crooks Hall studios on Saturday for day 1 of recording. It'll be the first time the band have recorded with a live drummer and the first time they've recorded anything in a year and despite having been to a studio before I think they're in for a learning curve over the next few weeks which will improve them as musicians and that can only be a good thing. We're returning for days 2 – 5 during the February half term and making use of the studios residential facilities, I did the same with Lost Lungs last year and apart from the early morning smoke alarm due to burning pancakes, largely enjoyed myself!
The band will be having an EP launch event on Easter Monday at the Portland Arms all being well, support and more information to follow in due course.
One rather exciting development for the band was having their track played in full on BBC Radio 1 by Huw Stephens! Each week a different regional BBC Introducing programme is featured and last week it was the turn of BBC Cambridgeshire. I was delighted to have been asked by the presenter Tom Simkins to record a piece on my tips for 2015, whilst doing this Tom wanted to feature The Staycations so asked me to include them in my picks and who was I to argue? The result was at around 12:20am on 13th January, Dearest got national airplay – a very surreal but equally cool moment.
You can listen back to the programme again and scroll through to roughly 2 hours 15 minutes here:
http://www.bbc.co.uk/programmes/b04xn6zt
Moving away from the bands and as I mentioned earlier, I am starting to promote a few more live music nights and the first of my initial 6 month run at the Boat House starts this Saturday evening. I've imaginatively called it 'Saturday Night Live' and playing the first night are The Hot Lights joined by acoustic support from Charlie and Molly, Rachel Clark and Soothsayer. It's free entry and kicks off at 9pm
The first (and 16th in total) NMG Sessions are on Tuesday, 17th February (an administrative cock up means it's on a Tuesday for one week only) at the Portland Arms and see Soothsayer joined by From The Sticks, Farlanders and some bloke going by the name of Michael Robshaw. It's £5 and I hope to record highlights for later radio broadcast.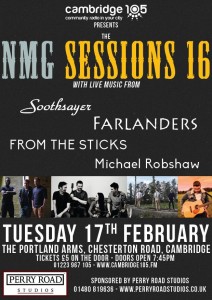 I'm also looking forward to putting on a headline gig for a Brighton based indie band who have recently been supported by BBC Radio 1. High Tyde will be playing the Portland Arms with local support from Lunacre and Young Son on Tuesday, 31st March.
Secondly, after a bit of two-ing and fro-ing I AM promoting a gig for local twins The Cogo in March with support TBC, the venue is also TBC at present.
Looking further ahead I'm beginning to get enquiries from bands wishing to play the Cambridge 105 stage at Strawberry Fair this June, that's always a stand out event of the year and one I am looking forward to again.
The dates for the second Alex Fest at the Alex Arms have been set for the beginning of July, I will be opening up an application process for artists to put forward requests to play soon too.
and finally, I am on the selection panel for Homegrown Music Festival which is later in the bank holiday. We've been inundated with applications from bands from all over East Anglia – it's going to be so difficult to pick who gets through. I'm also working on booking a headline band that is a little better than Matt Cardle from last year..!
Last but not least we're on to radio and the New Music Generator has had a really solid start to the year with guests Glue, Ollie and Will and Kermode Spirit. At some stage in the next couple of months the show will also be re-broadcast on both HCR FM in Huntingdon and Zack FM which covers Mildenhall, Newmarket and Bury St Edmunds. The show already has an established audience across the east but now it'll be available to listen to on FM radio across most of Cambridgeshire and Suffolk. I'm looking forward to partnering up with those new radio stations and will be able to announce start dates and broadcast times once negotiations with sponsors have concluded.
Upcoming guests on the show include this week, Tape Runs Out and in following weeks, The Black Cortinas, CC Smugglers, Horse Party, Ethan Ash and Sivu.
I am also looking forward to starting a new spin off, exclusive to Cambridge 105 where we'll be recording a different band each month completely live in session using the facilities at CRC which we used for the NMG Collective single recording. It'll be a little bit like a BBC Maida Vale session but on a budget!
February looks to follow the example which January has set, thanks for reading this update – until next month. Bye!