Gosh! Where have the last couple of months gone to? It's been such a busy time for me on many levels lately that I haven't had time to sit and update this blog – this is now the last long standing job on my 'to do' list chalked off once I've pressed submit so writing this is rather cathartic!
As usual, updates follow band by band:
In my last blog post I was talking about all the new material 28 Boulevard had ready to be released. Well, despite almost two months passing that situation remains the same but not for the want of trying. We've had various conversations with PR companies (they help push new releases out to blogs and magazines for reviews or to radio stations for airplay) in that time – including one very bizarre meeting at Kings Cross station with a guy who fancied himself to be the next Simon Cowell (the phrase 'too good to be true' sprang to mind) but none have really been right so that new EP has been sitting on a theoretical shelf since. It's interesting from a non musicians point of view how over a period of time as more new material is written the older stuff is viewed differently to how it was when first created and that is partly the case here. All of my bands work in very different ways when it comes to writing new material and 28 Boulevard are by far the most productive – there are loads of potential new song ideas and demos floating around, probably enough to make several albums so that's now the plan – they've begun recording an album which will be a mix of new material and a few of their older songs which will be changed slightly and re-recorded. Don't ask me when that'll be released..!
The band won an award since my last blog post too! A while ago they entered the video for the single 'Electric Feet' in to the music video category at the St Albans Film Festival and it beat off some very impressive (and much higher budget) competition to win! Tim went along to accept the award last month which now sits pride of place next to their NMG Award from last year – two awards in the space of a year, not bad!
If you haven't yet seen this now award winning masterpiece, have a look here: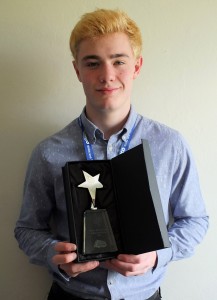 Tim Lloyd Kinnings with the award
The band are about to begin a (sort of) residency of The Portland Arms starting tonight by playing for Cambridgebands.com and then again on Saturday by supporting a US touring band 'Morningside Lane' After that they're doing a set at the Milton Fayre on July 11th and then it's in to a third UK tour – hurrah! Yes, a 6 date UK tour has been booked for the middle of August and this time we'll be in and around the north of England taking in the likes of Sheffield, Derby, Blackpool and Manchester. Blackpool in mid August will be fun, I'm looking forward to that one!
Lost Lungs are winding down really, the band took the decision a while ago to disband at the beginning of September as Helena, Dom and Andy go to University. Although they're not going a million miles away (only Norwich and Bedford) it would be possible for them to travel back and continue with the band but I think the time is right for them to go out on a high and perhaps start some new musical projects. It will be 2 and a half years by the time they disband since I signed them to Off The Chart Promotions and it's fair to say it's been a pretty wild ride! The band have had some immense highs and some troubled times as well but one thing is for sure, I will miss them like crazy once we've stopped working together. I have different types of relationships with each of my bands but I have a very close one with Lost Lungs, I consider them all to be my friends and we know all of each others secrets (some I'd rather I didn't know!) I always have a laugh when I'm in their company so I will cherish these last few months and hope to keep in touch beyond September. I may even shed a tear at their last gig so get the tissues handy!
Those last two gigs are at Gig in the Garden on 11th July and Homegrown Music Festival on 28th August.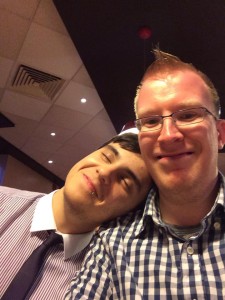 My favourite drummer, Lee Jaggard.
From one band with a limited future to one with a very bright future – The Staycations. In every blog I find myself sharing something exciting that they've either been up to or are looking forward to and this blog is no different. Their EP 'Something Good Tomorrow' has received some great feedback since it's release at Easter including leading to several radio appearances (BBC Introducing in Cambridgeshire and more recently Sue Marchant's BBC Eastern Counties show) and some promising sales – the first batch of CDs have almost sold out!
I teased a big announcement in my last blog, such is the time that's passed since I wrote that it feels that this is a bit old now but the news was that they were confirmed to play at Secret Garden Party on the BBC Introducing stage next month. SGP is one of the last local festivals I haven't had the privilege of attending so this is one to look forward to. When I told the band about this I made up mock tickets and handed them to each member in named envelopes – I think they thought they were getting some sort of P45 but were made up when they realised what was inside. I love nice surprises!
The band have been busy gigging in and around their exams playing in London, at Stortfest and most recently playing two sets at Strawberry Fair. The festival had a record attendance of over 40,000 people this year so to say you played twice in front of a huge audience of potential new fans is something to boast! Unfortunately the sound on the first stage was poor so you struggled to evaluate the performance – BUT – one positive that did come of that was to see how they coped with the technical problems, The Staycations of a year ago would have let all the issues (and there were a lot) get to them and bring down the performance however that didn't happen this year, they ploughed on and still had fun (or appeared to be!) regardless and that's an important thing to be able to do – keep the show on the road, no matter what's going on around you.
Their set on the Cambridge 105 stage was quite simply, awesome. By the end of their set a few hundred people had crowded round the stage – drawn in by what they were hearing drifting over the site. I didn't notice any mistakes, the change overs between songs were tight, the stage presence was fantastic, the communication between band and the crowd was clear and the vocals were on point – from everyone. I've said it before and I'll say it again, it's an honour to call myself this bands manager and moments like those 30 minutes on Saturday remind me of that.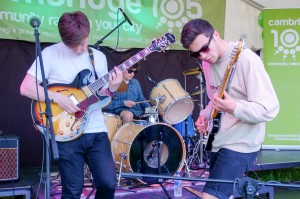 Strawberry Fair
We're planning on recording a music video for the track 'Bad Weather' at some point soon, initial plans got delayed but it's still something we're keen to do so hopefully that will gather pace in the near future. The band have also written a fantastic new track 'The Enemy' which we'll get recorded so look out for probably another single or AA side release later this summer.
Speaking of feeling proud, I had that moment during The Abstracts album launch event a few weeks ago. They finally released 'The Requiem of Mr M' in to the public sphere with a well attended gig at the Portland Arms. This is a band who I've known for 4 years now, initially through my radio links and latterly through artist management. It's fair to say they've been through an awful lot together in that time but they've stayed strong and stayed together and I think now are stronger than they ever have been. This album has been in the making for most of the time I've been with them so it was a bit of a watershed moment when they could finally say it's all done and close that chapter of the band and look forward. I was standing at the back minding the merchandise table during their gig so had a great view of the band rocking out on stage in front of a captivated audience who were all dancing, singing along or just tapping their feet. It was a great night.
Since I last wrote, the video for the lead single from the album 'Riddles For The Poor' hit the internet, you can view it here:
Another project which the band have been working on is 'Game For A Gig' which they recorded with a group of Anglia Ruskin University students as part of their media course. 28 Boulevard were also involved in a spoof of Never Mind The Buzzcocks. We finally got to see the final finished piece at a screening on Monday night – there are some comedy gold moments in there so I won't spoil them. Have a look for yourselves:
Plans for an Autumn tour are in motion but for now the bands next gigs are The Enterprise in London this weekend, followed by an appearance at the June Fiver night next weekend, Alex Fest at the beginning of July and Homegrown Music Festival at the end of August.
Motor Tapes also released their new EP recently which has received lots of positive comments and radio play courtesy of BBC Radio Cambridgeshire and their next two gigs are at the Cambridge Junction next weekend and headlining the Friday evening of Alex Fest on 3rd July.
There will be some more Motor Tapes related news to share soon but for now, I am tight lipped..
On a side note I was sad to learn that Flux32 have split up, I worked with them for 6 months and can vouch for them being thoroughly lovely guys and wish them the best for their future musical endevours.
Away from the world of artist management I spent a brilliant day at Strawberry Fair last Saturday running the Cambridge 105 stage. We had 18 live acts running from midday to 10:30pm and must take my hat off and extend thanks to everybody involved for what was a completely flawless (both from a timing and technical point of view) day and one that will live long in the memory.
My next festival to look forward to is Alex Fest which is now only 3 weeks away. I'm 95% of the way there to completing the line up – which by the way is looking amazing and expect to announce that next week. There will be 2 stages and 20 artists playing live across two days, if it's anything like it was last year it'll be a very busy event!
I'm also now organising an all dayer event for Homegrown Music Festival to take place at the Hunter Club in Bury St Edmunds on 1st August, mostly made up of artists who applied to play but have not yet been allocated a slot on the main festival line up.
My live music events have had mixed fortunes lately, unfortunately Saturday Night Live at the Boat House won't be continuing and I've opted not to continue working with the Tally Ho after an unsuccessful first event last month. On the positive side, the Monkfield Arms and The Dolphin events seem to be going well and we're starting a fortnightly acoustic night on a Sunday evening at the Architect on Castle Street in Cambridge from this weekend.
Finally, The New Music Generator is back exclusively on Cambridge 105 after a 6 month trial of syndication with two other local radio stations. I didn't feel it was working out with those other stations, the show wasn't gaining much and if anything it was negatively impacting on the programme. Loyal listeners can hear the show every week on Cambridge 105 and the podcast via the www.newmusicgenerator.com website on Fridays.
Who knows when I'll next get round to writing the next installment of this blog but one things for sure, the next one will reflect on an equally busy and exciting time!