I've been meaning to write this blog for a couple of weeks but for whatever reason it hasn't quite happened and so much has changed since I made my notes on three post it notes that I am struggling to decipher exactly what I wrote down so this could be interesting.
I'll begin with the big news announced last night which is that STAYCATIONS are to play the Cambridge Corn Exchange on Friday, 20th May opening up for Lonely the Brave who are playing the venue as part of their UK tour. This will be the biggest indoor venue the band have ever performed and really is one which they've been dreaming of performing on for years; Charlie says he might cry on the night – hopefully he doesn't, he might play a wrong note!
Lonely The Brave are a Cambridge band who have risen from playing the local circuit to selling out venues in their own right across the UK and Europe and to a certain extent are the blueprint for where we want to be with STAYCATIONS in the next couple of years. It's really great that they are giving an up and coming band the opportunity to support them, no doubt they would have been as excited as we are at the prospect of an opening slot at a venue like the Corn Exchange a few years ago. For us it's a fantastic opportunity to showcase the band to a new fan base but also a big challenge to play such a large stage to a big crowd of people and being able to deliver a quality performance at the same time. I know they are ready for that challenge though and we'll be working hard over the next few weeks to make sure they're fully prepared.
STAYCATIONS will be playing a 25 minute set starting at 7pm and are then followed by two tour support bands before the headline act. Tickets are available (but reduced availability) on the Cambridge Live website.
That opportunity was sealed following a showcase event the band played last Thursday at Relevant Records Cafe in Cambridge. Not somewhere I would automatically consider as a gig venue as it's pretty small and narrow but I know it's used for that purpose on a regular basis and actually, it worked nicely in the end. The showcase was put on by Prescription PR who we are working with at the moment to boost the bands profile so it was great for them to play live in front of all the guys who work there and they were all raving after wards! I see this band play live so much that sometimes you can become a bit blase about their talent and potential but this was one occasion where I was really reminded about just how much these five lads have developed over the last few years and what they could achieve so that's reinforced when you get other people from the industry who know what they're talking about telling you the same thing. 'You've got a great band there' said one of them. Don't I know it.
So things are picking up for the band at the moment after a quiet spell at the start of the year. They're writing lots of new material which they will have plenty of opportunities to play live during the summer months and they recently guested on BBC Introducing Cambridgeshire with Tom Simkins. We took the photographical genius that is Gareth Nunns with us and he came up with two nifty live videos which you can see on the bands Facebook page. Gareth is also responsible for the new publicity photos which we posted a few weeks ago, it was nice to get those sorted finally after being stuck for a while on a 'concept' and the worry of them looking overly posed. They turned out really well though and include a few hints of Cambridge in some too.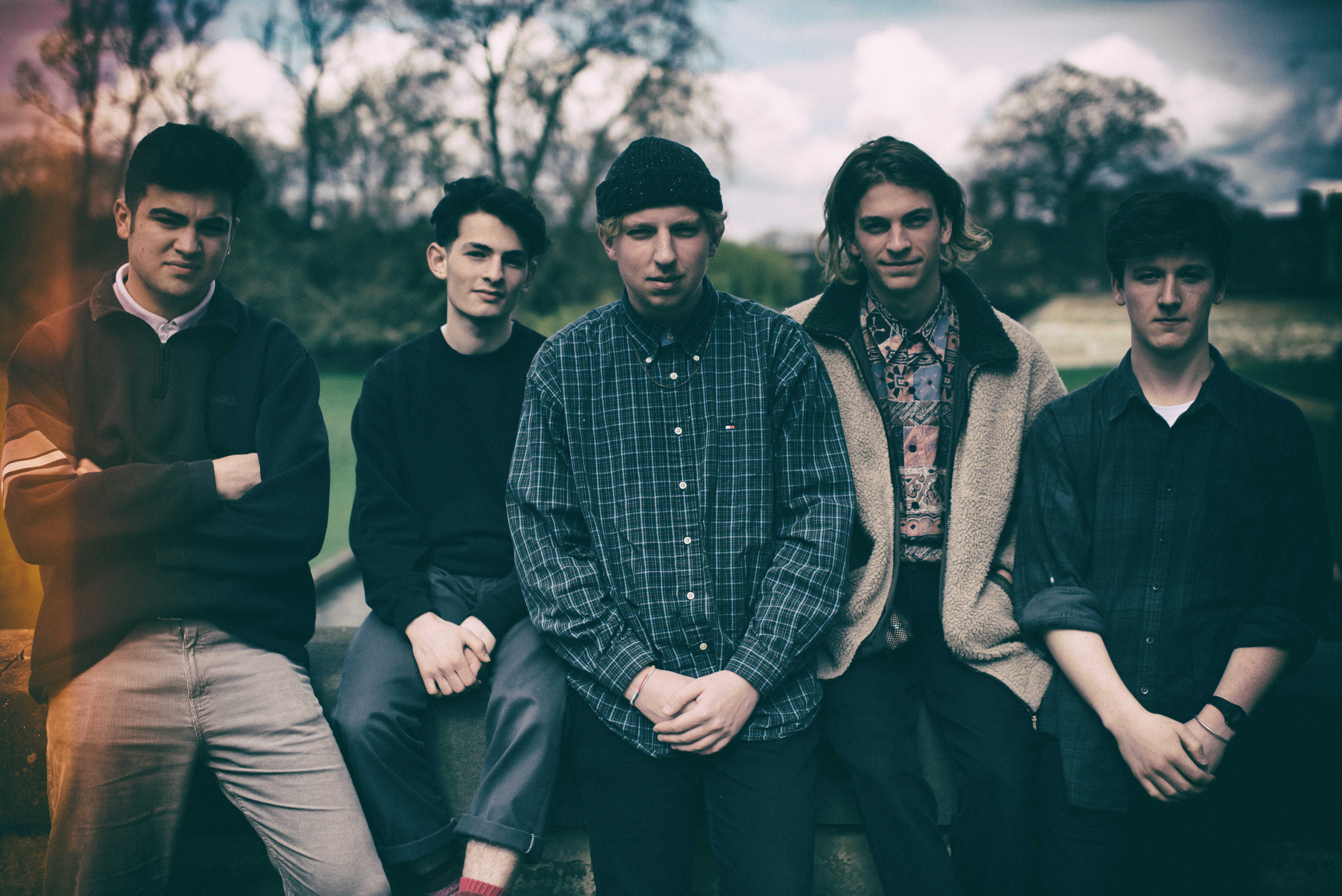 The band will be busy with live gigs soon with performances at Strawberry Fair, Homegrown Festival, Old Oak Festival and the Cambridge Junction in June and Gig in the Garden, Broomstock, Rock the Priory in July.
Moving on to History & Lore who also have plenty of gigs to look forward to in the summer. The band are busy doing coursework and dissertations for the end of the University term at the moment but have managed to squeeze in a couple of live performances in the last few weeks including a visit to the Fiddlers Elbow in Camden last month. It was the first time the band had played London for a while and it turned out to be quite an eventful trip – we almost went down there missing a bass player due to a mix up with times but thankfully we managed to raise Laurence just before we left and got down to London with all 6 members. They played a really tight set which included a couple of new songs they hadn't performed live before and went down well with the assembled crowd. Aleks (singer) has family and friends in London and Liam (drummer) is from Essex so we managed to drag some of them down to watch too as well as a few Uni friends from Cambridge.
A few weeks later the band played the Portland Arms and again played a great set until I had to cut them slightly short as we were running over time. I hate having to stop a band when they are in full flow and bring a set to an end and it's made more difficult by struggling to get their attention when they are performing too – short of waving my arms around in the air as if I'm bringing a plane in to it's stand it's tough! I think they've forgiven me.
We're talking at the moment about heading back in to the recording studio to work on some new material, they'd like to release something new within the next 6 weeks as it's been a while since their debut EP 'Cynics, Critics & Non Believers' was released. We'll see how that goes!
Gig wise, they're playing at Club85 in Hitchin on 27th of May, Strawberry Fair, Homegrown Festival, at the Bird Cage in Norwich on 29th June with other festivals including Curious Yellow Weekend, WoW Festival and Willow Festival.
On to Deep City who've had quite a lot of love for their Record Store Day release including a play on BBC 6 Music from Steve Lamacq! I think the magnitude of this passed them by a little bit as they're too young to appreciate what a legend Steve is but having grown up around the time when he was breaking bands on Radio 1 I know that was and still is a very influential figure so for him to pick their track from the Flexi disc was pretty special.
We went to Crooks Hall and recorded a new single a few weeks ago which we all felt turned out really well. 'Slow' (as it's called) will be released on Friday, 13th May hopefully backed up by some publicity on radio and newspaper too.
Last Friday the band picked up a prize at the Cambridge Band Competition final for 'Ones to Watch'. Whilst they didn't make it to the final on the judges points, it was very close and I think considering that really they are just starting out as a band with this 'sound' to come runners up in both Bury and Cambridge band competitions is an achievement to be very proud of.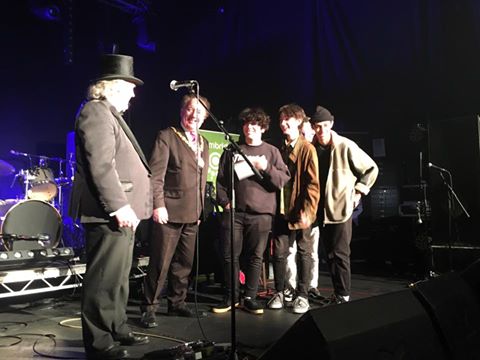 Upcoming gigs for them include another date at the Fiver night (Cambridge Junction) next Friday, the Portland Arms on 21st May, Strawberry Fair, two gigs at the Hunter Club and a spot at Homegrown Festival too.
Tom & Paris have been working on new material too! A month or so ago we went to Cream Room studios near Stevenage for a song writing session. They worked with Lauren Deakin-Davis who herself is a handy songwriter and performer and between the three of them wrote a new song within the space of a few hours from scratch. Sitting watching the process was fascinating, it was really interesting to get an insight on just how a song is constructed. That song will see a release at some point but in the mean time they'll keep working on more new material as well as preparing for a busy summer of gigs including taking part in the Milkmaid Songwriting Competition later this month, playing Strawberry Fair, Homegrown Festival, Multitude Festival, Lowdown and Dissfest.
I've already typed almost 1500 words and I haven't even got on to The Abstracts, Searching Grey or Meet Me At Dawn yet!
Speaking of The Abstracts, we had a very amusing day spent recording a video for the bands new single 'The House' which has a James Bond style plot line to it. I somehow ended up wearing a pair of tights on my head but it was all in the name of acting! It was fun to be involved with it alongside some of my Cambridge 105 colleagues who got roles too.
That single will be taken from the new EP 'All Roads Lead to Nowhere' which is due for release on 27th May and will be supported by a whole host of Summer gigs including The Mitre in Cambridge on 28th May, Strawberry Fair, The Bull in Haverhill, The Fiddlers Elbow in London, Cambridge Big Weekend, Gig in the Garden, Buckfest, Rock the Priory and Cambridge Rock Festival!
Searching Grey made their debut at the Cambridge Junction a few weeks ago and headlining no less! Their new stuff is sounding really good and we're looking forward to them going back to the studio to record some new material for later release. This band have a strong and very supportive fan base which is growing and growing so summer dates at Bury Fringe Festival, Strawberry Fair, Houghton Festival & Cambridge Rock Festival will all be highlights.
Last but not least, Meet Me At Dawn made their live return at the Cambridge Band Competition in March playing a well rehearsed set to a packed out room. Whilst they may not have progressed to the final, they did themselves no harm whatsoever with potential gig offers in the pipeline off the back of it.
The band were approached recently by Spanish rock band 'Electric Alley' to support them on a couple of UK dates later in September which will see them playing at home at the Portland Arms on 3rd September and at the Fiddlers Elbow in Camden on 1st September.
Last Monday I went to London with them where they were playing a gig in Portobello Road and whilst the venue may not have been one of the best and they were a man down, they did a decent job and it was fun to spend the evening with them – even if it did involve climbing 193 steps at Covent Garden Underground station!
As the weather improves and festival season fast approaches we're getting in to the best part of the year and there are plenty of things to look forward to for all of our artists.
Thanks for reading. Until next time.