I'm getting tardier at updating this blog as regularly as I'd like but here I am with all the goings on of the past couple of months since I last wrote.
Beginning with The Staycations who have had a fairly quiet couple of weeks but are preparing for a busy end to the year. Since I last updated the blog they've played a set in the underground cellars at Clare College in front of a few hundred University freshers and rather amusingly whilst there I was asked if I was a first year student myself which is flattering considering that ship sailed ten years ago! It was a good night though, the band certainly enjoyed themselves (the free bar tab helped that along quite nicely) and the surroundings made for a great atmosphere – definitely one I'd recommend to any other bands wanting to play somewhere a little different in front of an appreciative crowd.
Following that the boys played a private gig at RAF Alconbury which is a small US run base just outside Huntingdon, the occasion was for a couple of hundred school students who were having their 'Homecoming' event (a little bit like our May balls). The event organiser had seen the band play at Strawberry Fair during the summer and got in touch following that which is nice and goes to prove that you never quite know who is watching you and what opportunities may come out of any performance. I think the band found the situation a little difficult to adapt to as we were essentially (and it felt like we were) in the US and the culture between teenagers in the UK and US is very different. That aside, they played well and left with a souvenir banner which some of the students had kindly made, it's currently rolled up in the corner of my living room but I expect it will make an appearance at another gig soon.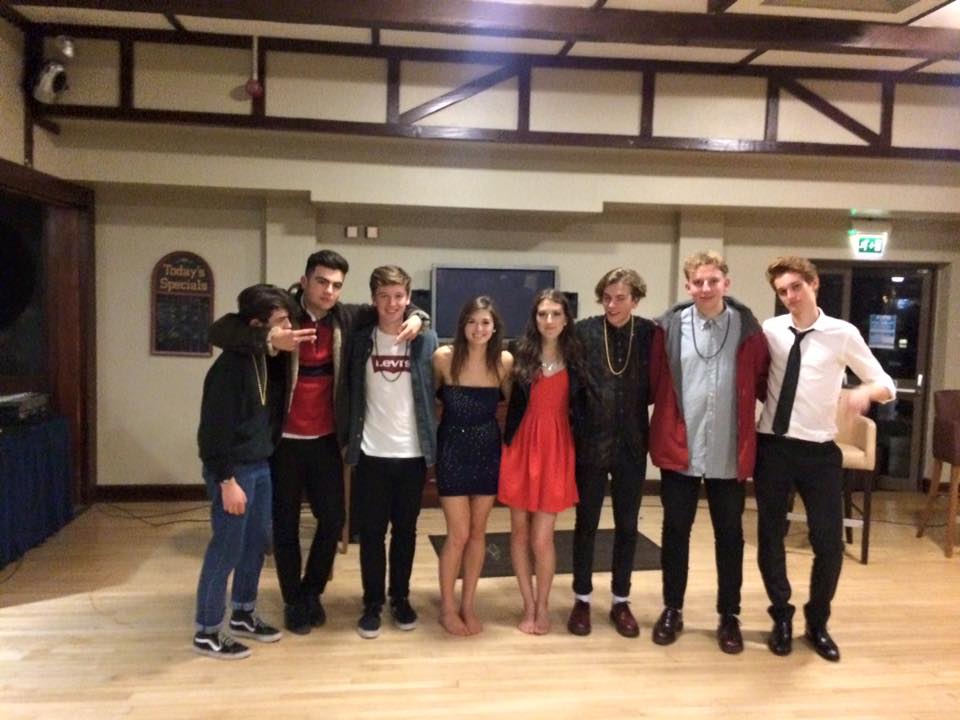 Next up was the NMG Awards, more on that in general later but The Staycations did open the show and once Ben had sorted his drum kit out (leading to a lot of awkward padding at the start of the show) they played an assured set of two songs to what must have been a difficult crowd; it's one thing to play in front of 350 people but for the majority of those to be your fellow music peers I can imagine is quite nerve wracking but they did themselves proud. My parents were at the event and in being so saw one of my bands play live for the first time, they were very impressed which was a nice touch for me. The band didn't leave empty handed either, scooping the Best Group 18 & Under category so all in all it was a pretty successful night. The whole ceremony is being broadcast on Cambridge TV at the moment and features Lewis' acceptance speech – even the bit where he forgets Craig's dad's name – comedy gold.
Speaking of Craig and Lewis, they've both turned 18 since my last blog, Craig in September and Lewis last week. You don't realise it when you spend so much time with them but reflecting back on what they were like when I first met them at the beginning of last year, they've certainly grown up a lot both in appearance and behaviorally and without wanting to sound like a total grandad are a credit to their parents. We've got a few months to wait now until the next member (Will) turns 18 but Ben and Charlie are still the babies of the group.
So coming up gig wise the band are back in London this weekend playing at Proud in Camden which is a venue that comes highly recommended to me by The Abstracts. It will be the first time I've driven to London since January when my car was broken in to so I'm very much hoping history does not repeat itself..
A gig at the Portland Arms follows on 29th November rounded off by an appearance at the Fiver night in December which I hope will be just as special occasion as 2014's event was, the place was absolutely packed with people and it made for a very memorable night.
Finally we've some studio time planned at the beginning of next month. The band are going to be working with producer Matty Moon who worked with Lonely the Brave on their last album. They will be recording two tracks which will be released early in 2016.
Bury The Light are still pretty quiet but are working on a load of new material which they intend to start recording in the new year. Some sad news was announced last week though as Sam MacGregor left the band, that decision was amicable though and each party leaves on good terms. I didn't get to know Sam very well since working with the band but I wish him all the best for the future.
The band are playing the Cambridge Junction Fiver night on Friday alongside artists like Tom Lumley and Fenrir and that'll be their last live outing of the year but no doubt an opportunity to trial some new material live.
The Abstracts embarked on their first UK tour last month and had a great time. Particular highlights were Leeds and Manchester and I know they had the opportunity to see some familiar faces long the way, Michael from 28 Boulevard saw them in Leeds and Tim Lloyd Kinnings went to watch them in York, they also played with Too Cool Kid in Manchester.
I think the tour was a very useful experience for them having to play 7 gigs back to back in cities they mostly had never played in and in front of the majority of an audience who had never heard of them – and they all came back having not killed one another too which is a bonus! They want to arrange another tour for Spring 2016.
They continue to be plugged by Pluggin Baby for their single 'Smells Like Summer' which has seen them played on vast numbers of radio stations up and down the UK but yet to crack the national market – there's time.
A new single will come out in January titled BAT and comes with an exciting new music video produced by Josh Armstrong. Having seen the preview I can safely say it won't disappoint!
Gigs wise, they're playing at the Portland Arms on Saturday, 21st alongside Shaun Colwill and Elliot Porter.
So, the NMG Awards then. What a night! It's very easy to build up a picture in your mind about how the event is going to run and look by doing endless seating plans and running orders but nothing quite prepared me for seeing it all come together in reality that Friday evening at the West Road Concert Hall. I rarely get emotional for some reason but I nearly lost control of those emotions at the very beginning of the night when the opening sequence played through and I was sitting at the back of the auditorium watching it go through (I'd seen it countless times, I knew what was happening) but it was the atmosphere, the fact it was being played in front of an audience full of people and knowing they're watching it for the first time. The Staycations hiccup at the start of their performance brought me down to earth a little though as the emotion turned from uncontrollable happiness to increasing irritation as Ben fumbled around tightening up a cymbal..! I think one of the big reasons why I felt like that was because (as I mentioned earlier) my parents were there. They've supported me an awful lot over the past few years and without them, my Dad in particular I would not be able to do all of this and enjoy the life that I have. It was an opportunity to show them what I do and seeing all the hard work come together on the night and run pretty much like clockwork was amazing.
Huge thanks to all the team who made it possible on the day, I can put everything in place on the day but I need help from those important people on the night to allow it to come together.
The ceremony is being broadcast on Cambridge TV in two parts and will be on their website to watch on demand after wards. The date for the 2016 ceremony has been set as 14th October so I hope to see you there!
It's my birthday next month and I have challenged 28 Boulevard, The Staycations and The Abstracts to cover a couple of each other's songs to perform at my party on 11th December. I'm told everything is under control, I'll report back on what they come up with next time!
Finally, I'm pleased to report that the Architect Sunday Sessions nights are continuing through in to 2016 so if any artists out there fancy an acoustic 30 minute slot on a Sunday night at a lovely pub in the heart of Cambridge, drop me a line.
I don't expect I will get the opportunity to write another blog before the festive season kicks in but I will en devour to write another before the year is out.
Thanks for reading.