Wow, what a month!
From not believing my eyes as The Staycations played in front of an almost full to capacity J1 at the Cambridge Junction and a rammed Alex Arms for the inaugral AlexFest to a room brimming full of well dressed talented musicians at the NMG Awards and my ambition to become Bob Geldof and Midge Ure rolled in to one. It's all in this month's blog update!
I'm going to break with tradition and write this blog post in chronological order rather than separate it in to what each band has been doing, so as with all good stories, let's start at the beginning.
It's the 26th September and the date of another Cambridge Junction Fiver night, the fourth event of the year that one of OTC Promotions artists have been represented (tonight – Friday, 24th marks the fifth). This month it's the turn of The Staycations who've already set foot on the stage twice this year but those occasions pale in to insignificance in comparison to what was about to happen on this particular evening. After lots of discussions behind the scenes (discussions is putting it mildly in some cases – don't let anyone tell you managing a group of teenagers is easy!) it was agreed that for the first time the band would feature drums in part of their set so with the anticipation of that plus the boost of all of the band members having begun new colleges and therefore made new friends; hundreds of friends, family and fans poured in to the Junction to see them play alongside Cathedrals & Cars, Improvised Beach Party, FIX and others. By the time the lads took to the stage the room was almost full, 700 people witnessed this set which made it the most popular Fiver night in two years and over 200 of those people were there because of The Staycations. The band came out on stage and before they'd even uttered a word went *mental*. Lewis got out his phone and took a selfie of the crowd, they responded, it was if an A list touring band had come to town. The band played their set, I stood trying to take all of it in and was open mouthed at times. To say they rose to the occasion is an understatement, they entertained that crowd and every single person left satisfied – except for the fact that they might have wanted the set to continue for the rest of the night. The addition of drums added another dimension to the night and the jury's still out on how we play that topic going forward but rest assured, that's one night none of those 4 lads are ever going to forget.
The next day I was on duty with 28 Boulevard as we boarded the 'tour van' for a day trip to Brighton. Audio, a music venue on the sea front was the scene for the final date of the bands first UK tour in 2013 and was by far the best night of them all with a completely partisan crowd turned in to fully fledged members of the 28 Boulevard fan club (well, they would be if there was one) even asking for photos of the band at the end of the night and waving us off as we left. Because of all of that, we decided to return for a one off date which we had arranged completely independently this time and enlisting the support of 3 local bands to fill out the bill. I'm pleased to say it passed off successfully, the people of Brighton came, saw music and left again and it was nice to visit again, one thing that struck me when I was there was just how fast time flies – it had been 15 months since my last visit but it felt like yesterday. The best bit about travelling long distances to gigs is the journey there and back again, you can always rely on the 28 Boulevard lads for in car banter – none of which can be shared on this blog!
A week later and it was to Bury St Edmunds and the Hunter Club for heat 1 of BurySOUND 2014. The Staycations were up against three other local bands in trying to get through to the final at the Apex on November 8th. I thought they played very well but they didn't agree – their opinion tarnished by the poor stage sound from their monitors, it's amazing how different a performance can sound on stage compared to out front and in this case it was very different. They narrowly lost the heat with a band called Echo Tree going through as automatic winners BUT just last weekend we heard that the band had been chosen as one of the judges wild card choices for the final so they ARE through to play at the Apex in a couple of weeks time. It wasn't quite the way that I'd meant for them to get there but we've done it and to be honest, for me the competition now is irrelevant, the opportunity to play a beautiful venue like the Apex in front of hundreds of people is the reason I entered them in to the competition, we've got that so anything else is a bonus.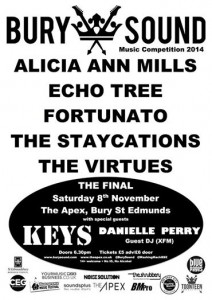 In amongst all of this, 28 Boulevard announced that the title of their new EP (their third official release) will be 'Welcome To Wester' and that it'll be available on iTunes etc from Monday, 3rd November. We're working with a radio PR company to get the lead tracks 'Well, Hello' and 'Cinnamon some airplay across the UK and have had a great response so far
I think it's bloomin' brilliant! If Sonic Youth and Blur had a lovechild this is what it would sound like
Chris at Hallam FM, Sheffield.
'Well, Hello' was also played by Tom Simkins on BBC Introducing last weekend and Fred at It's All Indie has premiered the Soundcloud stream online this week. The EP will be made up of 6 tracks and there are at least a couple of videos to surface soon too.
Track of the week… 28 Boulevard – Well Hello
It's not every week we have an award winning artist as a 'Track of the week', but this week we've got Cambridge band 28 Boulevard's new track "Well Hello" in the spotlight. Last Friday the band won the award for Best Indie Group at The New Music Generator's annual award ceremony. I presented the prize to the band, and it was a very pleasant way to finally meet this dedicated band from my local area!

This track reminds me of the 90's rock bands I was listening to late at night when I was suppose to be doing homework, fuzzy and euphoric hooks are the order of the day here, and with loads of vocals going on this can easily be a track the band will be shouting from the roof tops when their new EP drops! Check out their fantastic new song below!
[soundcloud url="https://api.soundcloud.com/tracks/170186035″ params="auto_play=false&hide_related=false&show_comments=true&show_user=true&show_reposts=false&visual=true" width="100%" height="450″ iframe="true" /]
We're now at Friday, 10th October (are you keeping up?) and it's the weekend of the inaugural AlexFest. Now, this is an event which was organised at relatively short notice after the new landlord of the Alex, Ed Barker put the idea to me as wanting to do something to celebrate the end of a successful first summer in charge and extending the festival vibe by another couple of weeks. I busily put together 20 local musicians to play across two nights and left the rest to Ed. He did a fantastic job with the marketing as the pub was completely rammed inside and out for both days – definitely the most number of people that have ever been in there in the time that I've known it. Huge thanks should go to Ed and his other half Carlene plus Will Feeley who did sound and of course to all of the bands and artists who performed. It was great fun and I'm looking forward to next year already!
Lost Lungs and 28 Boulevard both performed on the Friday night with Lost Lungs going down especially well! They've played a few times in Cambridge now but not quite received that level of response before – to the extent that many CDs were sold and they've been booked to do a New Years Eve gig just outside the city as well!
Fast forward another week and there was more press attention for The Staycations as Jude Clarke from Cambridge News interviewed Lewis, Charlie and Will for a full page spread which went out in last Thursday's edition. Jude is writing a page each week featuring a local band or artist which is great news – you'll see 28 Boulevard featured next week too.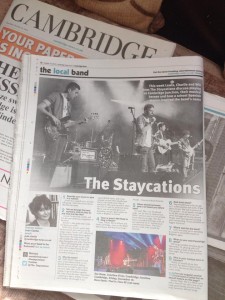 As I type this, a week ago I was putting the last minute preparations together for the second annual NMG Awards, decorating the Portland Arms gig room and listening to sound checks.
What another amazing evening it was as we packed the place out (190 people came through the doors) and 14 award winners and multiple other artist development prize winners went home very happy indeed. I'm hugely proud of how well supported and respected this event has become after just two years – from what started as initially something I regarded as a silly idea in my head has now blossomed in to one of the biggest nights on the local music scene's calendar. I won't thank everyone who was involved individually here but you know who you are and your hard work and time did not go unnoticed.
I have developed a very good poker face over the last couple of weeks though as since the judges met to decide the winners I had to keep it a secret that 28 Boulevard had won the Best Indie Group category and that The Staycations had won the Breakthrough special achievement award. I made a long speech on my personal Facebook page on the night making it clear to anyone before they began to complain that despite the event being one that I'd organised, I had nothing to do with the outcomes of the categories that my artists were represented in and so  I can't tell you the feeling I had when I was sat in that room upstairs at the Cambridge Junction whilst people whom I hugely respect in this industry, the likes of Tom Simkins, Sue Marchant and Gary Brown spoke so highly of both bands and unanimously chose them as the winners of their respective categories. Both bands hugely deserve the credit they've been given and I know they were both very shocked but delighted.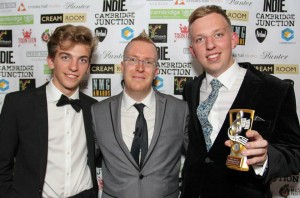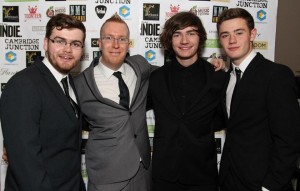 The NMG Awards was filmed by the good people of Cambridge TV and I hope to start sharing footage of the night on Youtube in the very near future – and next year we simply have to move to the Cambridge Junction J2 – the Portland, as great as it is, is just too small for us now!
And this brings me up to the present day. Once I've pressed 'publish' on this article I'm going to hop in the car and head down to the Cambridge Junction again to see Lost Lungs play the October Fiver night
Before I go I should also update you on #ProjectShhh which I officially unveiled last weekend. Next weekend I'll be working with a group of musicians and singers at Cambridge Regional College's music studios to record a cover version of the Band Aid hit 'Do They Know It's Christmas?'. I'm pleased that we'll also be able to release the single to raise money for charity after some very generous people came forward to donate, some wish to keep themselves anonymous so I will simply thank them here and say no more! Details on which charity will be the beneficiary as well as Cambridge 105 will be announced soon. I will also be looking for other local bands to submit their own Christmas cover track which can go on to the CD as a B side and I'm on the hunt for someone to design us the CD sleeve artwork!
I've got the diary filled up with guests for both radio shows over the next month too! Soothsayer, Plumbjam and Danny Kingsley are coming in on Cambridge 105 with George Smith, The Hot Lights, Kara Lumley & Zoe Wren on Star Talent. I am also hoping to get an interview with both Lonely the Brave and Mallory Knox before Christmas too.
Good news on the local acoustic night front too! You may remember I was running two earlier in the year – one at the Bath House and one at the Avery. Well the Boat House on Chesterton Road want me to run a monthly night featuring bands to begin at the end of January next year! It's great to have another opportunity and a new venue to put on local musicians. More information on that soon.
Finally, I'm busy programming some buskers to play for Cambridge 105's Children in Need fundraising coverage on Friday, 14th November and also looking for some acoustic artists to play for us on Donkey Common on 6th December for the Mill Road Winter Fair.
It's been a very busy month, I think I've covered everything! I'm now off to watch some live music, which is what I enjoy doing most.
See you in.. November!