Is Summer over? The view outside my window would suggest otherwise and whilst I may not be sure on the answer to that question I can confirm it's definitely September and I'm overdue another blog post.
I'm going to start off with a few words on Homegrown Music Festival which I attended over the August bank holiday and teased in my last blog entry. I should start by extending a huge congratulations and thanks to the team behind the festival this year, no one deserves more praise than organiser Glen Moulds and his wife Julie who created the whole concept following some inspiration from their daughter for a friendlier and cleaner festival designed to support the local predominantly unsigned music scene across East Anglia. There's so many other people involved with the organisation that I couldn't name them all here but it's safe to say the event was a success and a few levels up from the inaugural festival in 2013. The weather may not have been so pleasant but crowds were up and the standard of performers across the three stages was very high proving you don't necessarily need big names to pack out a festival as Friday headliners Dingus Khan and Sunday headliners Big 10 demonstrated.
My role was stage compere along with my new found partner in crime Ed Smart, we were part of the backstage team that kept things running along like absolute clockwork (very important at a festival). It was a pleasure to be part of a great team, there was such a buzz and atmosphere backstage all weekend that every day was over before you even realised it had begun. I refer to Ed and I as partners in crime because we did cause a little bit of mischief by getting some people participating in the Ice Bucket Challenge craze that was sweeping the globe at the time – it was all for charity though (E.A.C.H who were the festivals nominated charity) and so I have to say respect to Brodie, Stacey and Paul from Twisted Piglet for kicking things off who in turn nominated organiser Glen who then nominated artist liason Seymour Quigley. I think we raised a few hundred pounds extra through that little bit of entertainment!
Plans are already in full swing for Homegrown Festival 2015, we even had a planning meeting exactly a week on from the festival to debrief on what worked and what didn't – what's most pleasing is that there's new people willing to put their time in to help for next time, remember nobody makes any money from this, it's all done through the sheer enjoyment and passion for music. I'm looking forward to next year already!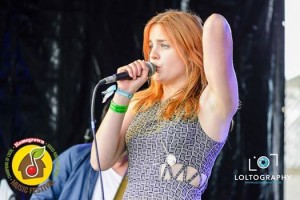 Helena from Lost Lungs at Homegrown Festival.
Moving on with what my artists have been up to since I last wrote, beginning with 28 Boulevard who have very nearly completed their next EP which will be released in around 6 weeks time. It's the follow up to the critically acclaimed 'Sunclouds' which debuted back in April and has largely kept the band busy over the summer and during the first few weeks of their gap year. Completely written, recorded, mixed and mastered by the band themselves, it sounds great and another real evolution of the sound they were starting to discover in the Sunclouds EP. We're in the process of working on a PR strategy, choosing a lead single and putting together a video at the moment so there isn't much more to say just now only to say that we hope the reaction to this EP is equally and if not more positive than the last and it helps move the band up a few more levels and on even more of a national scale as undoubtedly the previous release did.
Last night (as I write this) I was with the band at a wedding reception in Ely, this a date that's been in the diary for a long while now and something I'd been looking forward to. The bride and groom, Ali and Pete had invited 28 Boulevard to perform having seen them play a gig at the Junction back in April – they wanted a wedding reception with a bit of a difference and figured having an Indie band play would be exactly that. The venue was really nice and had a purpose built performance area complete with stage, dance floor and lighting so it did take on a proper gig atmosphere with Ali, Pete and their guests really getting in to the occasion! The band did a mix of covers and their own material and performed for 2 hours playing a total of 40 tracks – the covers have largely only been learnt in the last month and I have to say they did an excellent job, it makes my mind boggle how they can learn so many new songs and execute them purely by memory in such a short space of time. I'm no musician so I was impressed with all of the guitar, drum, bass and keyboard parts but the lyrics are surely more difficult to big credit to Tim and Michael for pulling that off with some aplomb! Whilst the covers went down really well, it was the bands original material that was the talking point afterwards with loads of guests saying how much they enjoyed them and with some great feedback on some of the tracks which feature on the upcoming EP release that can only bode well. It makes me feel good when (as someone said last night) people tell me things such as 'I'm lucky to have them' or 'I've struck gold' because these people are only seeing something I saw two years ago when I first signed them, I've always known they'd develop and succeed (how far we've yet to determine but the signs are good!) so to see them realising that and for people to wake up and appreciate that too is really pleasing. Those lads work incredibly hard and they deserve every success that comes their way.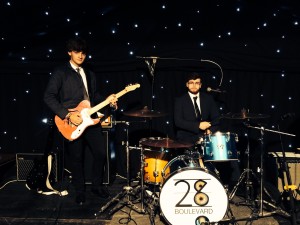 Cameron & Michael at sound checks for the wedding reception.
The next date to look forward to is this Saturday as we're returning to Brighton, scene of a date on the bands first UK tour in June 2013. We've hired out the gig space at Audio, one of Brighton's best gig venues and invited three awesome local bands to come and support and I'm hoping for another brilliant night. The band picked up a modest fan base on their last visit, some of whom have since travelled to following gigs in London so we're going back and hoping to see lots of new faces as well as familiar ones. We're releasing some limited merchandise for this gig too with gig posters and a special edition CD which will be on sale on Saturday so if you're coming, grab one!
A little closer to home other gig dates to look forward to this year include AlexFest (10th October), Oxjam Cambridge Takeover at The Emperor (18th October), Esquires in Bedford in November and a return to the Cambridge Junction on 19th December.
Moving on to The Staycations and when I last wrote they were yet to perform at Lodestar, a festival I'd personally never been to before which is probably a crime considering what I do but I've put that right now! The lads played on the Fen stage to a really busy crowd on a lovely sunny afternoon (I got sunburnt again, this happens too frequently). and went down a storm even throwing in a new funky tune to their set. Next up was a first gig in London, the venue being Acklam Village Market which is located near Portobello Road in West London on a Sunday lunchtime. I hopped on the train to this one, got slightly lost at the other end thanks to Apple Maps but got there in time to see the band put on a really energetic and confident performance to what was to begin with a modest crowd but doubled in numbers by the end – I always think if you can draw passers by in by your music then you're on to a winner. At the end they sold some EPs, got some great compliments and won some new fans which is hugely encouraging for a first gig in a place where nobody really knows who you are. The venue had great feedback too, so much so they've been asked back to play again soon.
A couple of weeks ago the band played an intimate gig at the Boat House song writers night thanks to being invited to perform by Stella Hensley. This isn't something the lads have done so much lately but it was an entertaining evening (not necessarily for the right reasons) and they brought the house down with their headline set at the end and bagged themselves some more gig bookings for next year too so can't be bad!
This Friday they're back on the J1 stage at Cambridge Junction and are expecting a huge crowd having sold their allocation of tickets twice over already – and they're still going! In their second performance they grew in confidence in comparison to their first which was understandably a bit nervy so as they're practically veterans of that stage now having played there three times in the last six months I'm expecting big things and for the crowd to spur them on.
Following that they're playing at the Tram Depot on Saturday as part of Volksfest (5pm) and then next weekend they're appearing in the first heat of BurySOUND which is a competition I've experience of last year through Lost Lungs who made the final and narrowly missed winning the competition outright. It's been a little while since The Staycations have been involved in a competition, they came second last time but they've improved leaps and bounds since then so fingers crossed they'll blow the judges away a week on Friday. Other gigs to look forward to include another date at a Christmas lights switch on event – this time in Ely for Star Radio and if you open your copy of the Cambridge News on October 16th you may just find a little page spread about the band and what they've been up to this year too..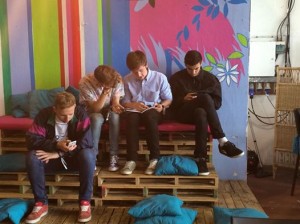 The Staycations at Acklam Village Market.
Last but not least Lost Lungs who have been rather busy over the last month promoting their debut EP which was released on the Sunday at Homegrown Festival. All those hours folding inlay booklets and burning CDs (to which the band were very grateful for.. honest…) were worth it because we shifted all of the copies we took with us to the festival in just 1 day! Their set at the festival itself was also most memorable, thankfully this year for the right reasons after last year's set was dogged with technical problems. They were on early afternoon but really grabbed the opportunity by the scruff of the neck and delivered a high octane set which really got the watching crowd going – definitely one of the most talked about performances of that afternoon! Stage presence is something which has never been a problem for this band but they've really refined it recently so it's not just their music which leaves a lasting presence in peoples minds.
The response to the EP release has been really promising, we had a page spread in local press a couple of weeks ago and some radio airplay on BBC Suffolk and the band are currently Artist of the Month on Felixstowe Radio (where they played a live session last Saturday). Over half of the initial CD run of EPs have been sold so I wait with anticipation to see the iTunes figures then they come in at the end of the month. As i've touched on in previous entries, the release of the EP has been a long time coming but it's been worth it.
Last Saturday the band played at the Hunter Club in Bury to a packed room and upcoming dates include a couple of visits to Cambridge, firstly for AlexFest on 10th October, a radio appearance on Cambridge 105 (not my show!) on 28th October but before that a return to Cambridge Junction on 24th October, that'll be a good one.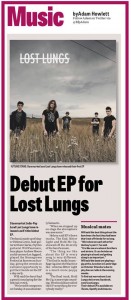 Lost Lungs article in Bury Free Press (Sept 2014)
Finally on the topic of bands, my agreement with Flux32 has come to an end after a successful 6 month spell where the band received two bookings for the Cambridge Junction, played multiple summer festivals and raised their profile within the scene locally. I'll continue to be a big supporter of the band wherever I can and look forward to seeing them at the Junction in October.
To round up, the short list for the NMG Awards was posted a couple of weeks back – you can find all the details of that on www.nmgawards.com. The judges are reconvening in our secret bunker in two weeks time to decide the winners of each category before the big awards night on October 17th. A weekend before that it's AlexFest with 20 of the best unsigned musicians playing across two days and two stages – highlights include our two artists 28 Boulevard and Lost Lungs plus Fred's House, Goldstar, The Abstracts, Tom Korni, Elliot Porter, Music & Spies and many more. It's free entry and it takes place from 5-10pm on Friday, 10th and Saturday, 11th October at the Alex Arms on Gwydir Street.
In my last update I wrote about my plan to record an NMG cover of 'Do They Know It's Christmas'. Plans are still on going, almost came to an end after PRS licensing issues came in to play but I think I've sorted that out so looking forward to laying down the song at the end of October with vocals in November.
Radio wise, upcoming Cambridge 105 guests on The New Music Generator include Twisted Piglet (this Wednesday), The Willows (October 8th), Let Go, The Sky (October 15th), Lunacre (October 22nd) and Soothsayer (October 29th) whilst on Star Radio tonight I'm featuring Mirror Signal, next week Frett and hopefully the following week it'll be Joseph Peacock who featured on X Factor a couple of weeks ago.
Finally, a word on NMG Sessions 14 this Thursday at the Portland Arms with Ambury Night, HARDACTORS, Nathan James King and Young Son taking to the stage, doors 7pm and tickets £5.
Until next month, ciao!