Where does the time go? I've titled this blog post as a 'summer update' because I'm a bit too late to update on July but August isn't over yet.
To be honest, it's been relatively quiet for the last 6 weeks so I can fit everything in to one blog post.
Let's begin..
My last blog post gave the full inside story on the 28 Boulevard 'Sunclouds' tour, since then they've been off the scene gig wise apart from a debut appearance at the Cambridge Rock Festival at the beginning of the month. The band played my stage (Stage 2) on the Thursday night to a really busy tent full of people lapping up the music which was on offer from the unsigned bands we were show casing and they pulled off a really professional set effortlessly switching from one track to the next to keep the audience interested throughout. A power outage struck half way through but they coped superbly, Michael instinctly launching in to a drum solo whilst the crowd waited a minute or so for normal service to be restored.
No sooner has the tour for the last EP finished were we sitting down to put together a plan of action for the next which as I write this has already been completely recorded and is now in what I call the 'quality control' phase where everyone takes some time out before going back to listen to the tracks recorded (they have recorded more than will make the EP final cut), it's also the first time I get to listen to the tracks too. I've heard them all through once but I haven't told them which ones I like yet. The EP has once again been recorded by the band themselves and credit to them, they set themselves a time table of who would record when and they stuck to it – even completing it earlier than anticipated. It's a pleasure to know that they can be trusted to get on with things themselves without having to be chased, they are all very serious about making a go of their music as a full time 'job' during their upcoming gap year and it shows.
I can't share any more details about the EP at the moment other than to say it's likely to be released late October/early November and will be accompanied by some form of tour.. again!
Whilst there's been a gap of activity both Michael and Lewis LK have been working on a little side project by remixing some existing songs. Michael produced a 'euro pop/dub step' remix of 'Fare Thee Well' and Lewis had a go at mashing up 'Timing Is Key' with a Radiohead track. Both are available on Soundcloud for free download so check them out..
[soundcloud url="https://api.soundcloud.com/tracks/161399249″ params="auto_play=false&hide_related=false&show_comments=true&show_user=true&show_reposts=false&visual=true" width="100%" height="450″ iframe="true" /] [soundcloud url="https://api.soundcloud.com/tracks/163550989″ params="auto_play=false&hide_related=false&show_comments=true&show_user=true&show_reposts=false&visual=true" width="100%" height="450″ iframe="true" /]
Most of the band are either on holiday or have just been on holiday at the moment but they'll be back gigging again in September with an appearance at the Cambridge Junction on September 13th for Oxjam followed by a private wedding gig the week after. I teased in my last blog that we were thinking about a return trip to Brighton – I'm pleased to say that's happening, we're heading back to Audio in Brighton for a gig with local bands The Kid Kapichi and WAX on 27th September. Hopefully I won't be attacked by sea gulls this time!
As far as The Staycations go, I'll pick up from where I left off in the last blog which was written just before they played Parkers Piece in front of several thousand participants in the Race for Life. They performed two songs with stand in bass player Ali Walker and although clearly nervous beforehand really did a superb job – especially Lewis who made some really touching comments about the charity (Cancer Research UK) and why everyone was there. I was disappointed that they were on so early before the huge crowd had a chance to gather but that's the way it goes sometimes – and the sound wasn't great but again, difficult to get things right straight away in that situation and when you're only playing two songs it's over just as you've got the mix right. I wouldn't want to be a sound man!
That gig was followed by their second appearance on the J1 stage at Cambridge Junction. They definitely built upon the performance they put in on their first visit, this gig has now replaced that one as, in my opinion, their best performance to date. Everything was faultless and they were rewarded afterwards with lots of adoring young fans approaching them for photos, I think I did my best to dodge accidentally photo bombing them!
The Cambridge Folk Festival was another absolute highlight of the summer for me, it was my first visit and I really enjoyed myself. The band were playing The Den on opening night and went on stage just after a rain shower had passed through – this of course meaning the tent was packed to the rafters with people, all of which stayed. The audience participation in this one was immense, it was clear they were performing to a crowd who really knew and appreciated their music as they got a raucous round of applause after every song and they even had the crowd singing song lyrics back at them in the last track of the set. I hope they make the progression to a bigger stage next year, that would be phenomenal.
A great review from Zak at Slate The Disco: http://slatethedisco.com/2014/08/cambridge-folk-festival-day-one-review/

The crowd in The Den at Cambridge Folk Festival
It's been quiet in the last few weeks as they've taken some well deserved time out for holidays but they'll be back gigging again from September with loads more highlights to look forward to including two more Cambridge Junction gigs, a debut London gig at the beginning of the month and of course Lodestar Festival next weekend.
It doesn't matter which band it is but I do seem to find myself in a constant cycle of EP releases and this time it's Lost Lungs turn to release one – their debut too. It's been a long time coming as the tracks were recorded back in Easter but due to delays with one thing or another it's pushed us to an end of August release which happily coincides with their second appearance at Homegrown Festival. I'm writing this after having spent all afternoon and most of my evening painstakingly folding 4 page booklets, inserting them in to the CD cases and burning 40 of the 100 CDs myself due to various cock ups in the manufacturing process. There will be a limited release CD available on Sunday at Homegrown and the tracks are all set to go live on Monday on iTunes, Amazon, Spotify and anywhere else that will let you pay money for music.
We also had some fun shooting some new publicity photos with the bands now resident photographer Harry Raven. This involved a couple of hours one Saturday afternoon a few weeks ago traipsing round the countryside of Suffolk stopping every now and then to pose for something which looked like it would be a good photo opportunity. Harry has done a really good job in turning the photos in to the artwork of the CD and designing all the new Facebook photos and banners for the band. I don't think I've ever said this outside of the confidence of the band but I will happily admit in public that in my opinion they are the best looking band I manage, I definitely think the photos back this opinion up! If the music fails, modelling careers wouldn't be a bad way to go.
Finally, Flux32 have been working away on some new material lately – none of which I've heard yet so I can't tell you about it unfortunately! But they'll be back gigging properly again in October and they're really looking forward to another set at the Cambridge Junction in October.
Away from band stuff, I'm setting off for Homegrown Festival tomorrow for the events second year. This time I'm co-compering the main arena stages on all three days which is something I'm a little daunted by (I'm a radio presenter, I don't usually see my audience) but also hugely looking forward to! I know a lot of the artists on the bill through featuring them on the radio so It'll be a really fun and friendly environment and a great opportunity to catch up with people and have lots of different bands in one place which is quite unusual. I'm camping again this year, something I never do usually – I made an exception last year and had a blast so hopefully I will again this year although the weather looks colder than last time so I'll be packing my thermals I reckon!!
The NMG Awards long list was published a couple of weeks ago so preparations are now full steam ahead for the second year of that which happens on 17th October. I'm meeting with our judging panel on 2nd September to whittle down the long list to a top four in each category, I'm sure that'll be an interesting meet, I have no idea who everyone is going to pick! I'm really pleased with the judging panel I've assembled this year, we've got new additions from two BBC broadcasters in Sue Marchant and Tom Simkins and It's All Indie blogger Fred Bambridge. We've definitely got all bases covered in terms of knowledge of each genre category. I've also confirmed three performers to play live on the night including one special guest artist (I can't say who yet!!)
I've been approached by Ed, the landlord of The Alex on Gwydir Street (handily just round the corner from Cambridge 105) to run two stages at his inaugural music festival called 'AlexFest' in October. Now, the pub is tiny so the place is really going to be rocking but I've had fun putting together a list of bands I think would really go down well, and a separate list of singer song writer/acoustic artists who'd work nicely on the indoor acoustic stage too. It's on 10th and 11th October, I'll publish the line up once it's completed but if you're in the area, definitely come down – there's lots of great drink, the food is excellent and the music will be pretty good too!
Not content with all of that I've also set myself a project to create a charity single for Christmas. An NMG version of 'Do They Know It's Christmas?' with proceeds split between Cambridge 105 and a charity. I've enlisted the help of Goldstar's David Gane who as well as drumming for the band also records and masters a lot of their material, he's also letting us use where he works at CRC to record everything. I spent a few hours the other week listening through to each version of the track and comparing voices from the local unsigned scene to see who would fit singing each line, then compiled my list and approached each singer. I'm waiting for a few to get back to me but the response so far has been really positive. I'm also putting a band together to record each of the instrumental parts and hope to be in a position to formally launch the project soon as we'll be recording at the end of October.
Finally, I've had some really enjoyable New Music Generator shows lately with guests including the next One Direction in Ipswich boy band Polar Collective (seriously, they've been in teen magazines and everything!), Cambridge Buskers Competition winner Tom Korni, electronic duo Frett and the lovely Music & Spies lads.  Upcoming guests include folk band Mortal Tides, Oscar Corney (former guitarist from The Varsity, now gone solo – and has an awesome singing voice!) , 14 year old singer song writer Rhys Butterworth Bowman and Cambridge band Screen People.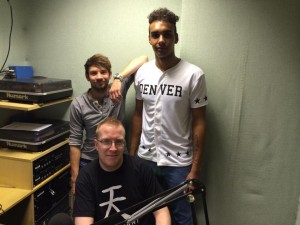 Music & Spies on the New Music Generator (20/08/14)
STAR Talent has returned from it's summer break too with upcoming guests including HARDACTORS, John Chisham and Heartwork.
Finally, the line up for the next NMG Sessions has been announced: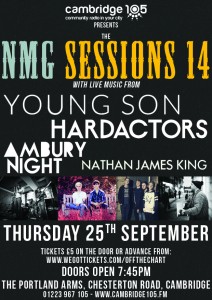 That's my summer round up complete. I'll write again in September with all the news from Homegrown, Lodestar and anything else I find myself getting up to in the mean time.